Nancy Grace: Zimmerman Going Back To Life Of 'Driving Through Taco Bell,' Eating 'Churros' (UPDATED)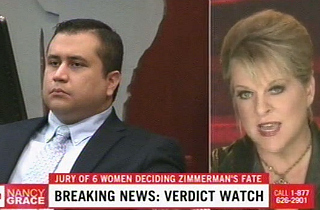 Watching Nancy Grace can be a painful experience, and so sometimes we miss her golden nuggets (like this one) while taking a break from her exhausting fire-and-brimstone delivery.
An anonymous reader points us to yet another bizarre on-air remark from Grace, dating back to Friday evening after the trial concluded and jury members began their deliberation.

After replaying defense lawyer Mark O'Mara's plea for the jury to let George Zimmerman "get back to his life," Grace railed against such a thought:
"Let him get back to his life. Give him back his life. Give George Zimmerman back his life. […] Give Zimmerman back his life? He's out on bond driving through Taco Bell every night, having a churro. You know, long story short, he's got his life. Who is going to give life back to Trayvon Martin? I find that, at the very least, a very poor choice of words."
Zimmerman is half-Hispanic.
Her guest for the segment was Zimmerman friend Frank Taaffe, whose response here could be considered just as strange.
Watch below, via HLN:
[h/t anonymous reader email]
UPDATE: As it turns out, Grace was referring to Zimmerman friend Taaffe's own words from several days prior. While discussing the defendant's weight gain on July 9, the pair had this exchange:
GRACE: What I'm asking is, is he consciously eating, gobbling down Ring Dings behind bars so he can then effectively argue to the jury that he's too obese?

TAAFFE: Sure he is. Then he's going to Taco Bell at midnight, eating churros and he's eating Taco Bell at midnight, you know, 'Run for the border.' I mean, he's doing all kinds of stuff to keep himself occupied. I mean, how would you feel if you…

GRACE: He's not going to Taco Bell because he's been behind bars…

TAAFFE: Well, I'm sure…

GRACE: He's not going to midnight runs at Taco Bell.
Video below, via HLN:
— —
>> Follow Andrew Kirell (@AndrewKirell) on Twitter
Have a tip we should know? tips@mediaite.com