Nancy Grace: Pistorius 'Flirting' with Judge May Have Gotten Him Off Murder Charges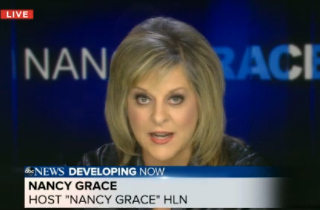 For those still paying attention, this morning a South African judge found Paralympic sprint runner Oscar Pistorius not guilty on charges of murdering his girlfriend Reeva Steenkamp.
According to Pistorius' defense, the 2013 shooting death was an accident, with the runner thinking he was firing his weapon at a burglar holed up in his bathroom. The prosecution, however, maintained that Pistorius knew Steenkamp was in the bathroom, and had shot her dead, through the door, in a rage following a fight.
While Pistorius still faces manslaughter and ammunition charges, he will not be convicted of murder. This has Nancy Grace absolutely incensed. During an ABC News online discussion about the judge's decision, the HLN host suggested that Pistorius' in-court sobbing and "flirting" with the judge may have swayed her decision to let him walk from the murder charges.
"I guess all of the vomiting, and the heaving, and the crying, and the snotting, and the lying down in the courtroom, having the shrink come rub your head, I guess it worked," she said Thursday afternoon. "All the 'm'lady's and mild flirtation with the judge, hey, you know what, it worked."
Legal analyst (and Mediaite founder) Dan Abrams added that he found it bizarre for the judge to fully believe that Pistorius' shooting was a "mistake," but he he disagreed with Grace's analysis of how the judge came to her conclusion.
"I don't think the notion that Oscar Pistorius is 'flirting' with the judge had anything to do with the outcome here," he said.
"Well, you wouldn't," Grace interjected. "Come on. M'lady this, m'lady that. Batting his eyes. Come on. It was either that, or the crying, or the snotting. You can pick which one got to the judge."
Despite Abrams' assurances, Grace remains unconvinced that the judge will convict Pistorius on the other charges. "When you don't know a horse, look at the track record," she said. "She's letting him off on these two counts, what will she do next?"
Watch below, via ABC News:

Watch more news videos | Latest world news
[Disclaimer: Dan Abrams is the founder of this website.]
Have a tip we should know? tips@mediaite.com