Nancy Grace Really Wants Brian Stelter to Tell Her If Caitlyn Jenner Still Has a Penis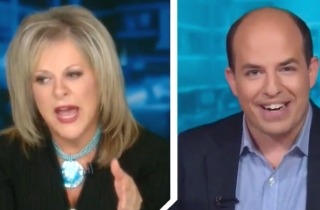 Most of the American public isn't very familiar with transgender issues and what it means to be transgender in the first place, which is why Caitlyn Jenner is shining a very welcome spotlight for many on these issues. Nancy Grace tonight tackled the issue with CNN's Brian Stelter.
Stelter talked about how "choreographed" the whole thing has been, while Grace said, "If you don't believe in transitioning, then don't transition! Let the man do what he wants to do!"
She said she just wants to see Jenner happy, but also decided to get into some detail about exactly where Jenner is at in the transition process. And she asked this in the most blunt, Nancy Grace-ish way possible.
"Does he have a penis?"
(Before you read any further, take a moment here to imagine yourself in Brian Stelter's shoes, being asked by Nancy Grace on national television whether Caitlyn Jenner still has a penis. How's that for awkward situations?)
Anyways, Stelter said, "The best answer I've got is that she has said in the past that'll be the last part." He noted how some of the surgery has clearly already happened, as "we see quite an impressive chest that was not there a few months ago."
Grace also brought on a gender reassignment surgery expert––whom she also asked the penis question of––to go more into detail about all this. They talked a lot about the transition process, facial feminization surgery, and all the rest of it, but towards the end she revisited the penis issue.
She said to Stelter, "Right now, she still has the penis, says you." Stelter responded, "Well, we don't know any differently."
But words really aren't enough for this segment, so you should probably just watch the full video below, via HLN:
[image via screengrab]
— —
Follow Josh Feldman on Twitter: @feldmaniac
Have a tip we should know? tips@mediaite.com
Josh Feldman - Senior Editor