Nancy Pelosi Chides NBC's Luke Russert For Asking 'Offensive' Question About Her Age
Pelosi Chides Luke Russert For Asking 'Offensive' Question About Her Age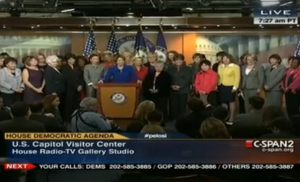 Nancy Pelosi got a bit testy on Wednesday when — during a press conference announcing her decision to stay on as House Minority Leader — NBC reporter Luke Russert asked her a question related to her age. Characterizing the question as "offensive," Pelosi responded bluntly.
"Some of your colleagues privately say that your decision to stay on prohibits the party from having a younger leadership and hurts the party in the long term," Russert said, asking, "What's your response?"
The question drew boos, as Pelosi replied with, "Next!"
"Oh, you've always asked that question, except to Mitch McConnell," Pelosi said, as the women behind her applauded.
"No, excuse me," Russert continued. "You, Mr. Hoyer, Mr. Clyburn, you're all over 70. Is your decision to stay on prohibiting younger members for moving forward?"
"So you're suggesting that everybody step aside?" she asked. "Let's for a moment honor it as a legitimate question, although it's quite offensive. You don't realize that, I guess."
Pelosi went on to state that, during her leadership, "everything I have done" is to elect younger, newer people into Congress, and particularly younger women. "I wanted women to be in greater numbers at an earlier age so that their seniority would start to count much sooner," she added. "And it wasn't confined to women though. We wanted to keep bringing younger people, and some of the decisions we made over the years…was to encourage people to come."
She summed it up: "The answer is no."
Afterwards, Russert defended himself on Twitter:


Watch the exchange below, via C-SPAN:

Have a tip we should know? [email protected]