Nancy Pelosi: Does Putin Consider 'Gays and Lesbians in Russia' to Be 'God's Children' As Well?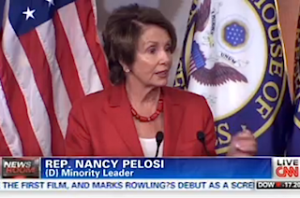 Vladimir Putin's New York Times op-ed piece warning against a U.S. strike in Syria has received a wide variety of reactions from pundits and commentators on both side of the political fence. And now, House Minority Leader Nancy Pelosi has weighed in.
Pelosi spoke to reporters about the op-ed Thursday, drawing a contrast between Putin's inclusive message aimed at the United States and the anti-gay laws his country has implemented at home.
"What I found interesting was the closing," Pelosi said. "He says when we pray to God he judges as all–I don't know exactly was he says–but he says that we are all God's children. I think that's great. I hope it applies to gays and lesbians in Russia as well."
Fareed Zakaria responded to Pelosi's comments, and the op-ed itself, during an appearance this afternoon on CNN. He noted that it was consistent with Putin's ongoing desire to "set himself up as a kind of–in opposition to the idea that the United States is the only super power in the world" and in a way was "nostalgic" for a time when the U.S. held less power on the world stage.
Zakaria also found the piece to be "very intelligent" and "well-written." He said, "I was struck by how cleverly crafted it was, and it ended by saying the United States should not think of itself as exceptional, that's dangerous. We are all god's children and we're all created equally." Despite the insistence by Putin's PR firm that the Russian president wrote the op-ed himself, Zakaria said, "Whoever wrote it, and I suspect it was not Vladimir Putin, is actually a very skilled wordsmith."
Watch video below, via CNN:
[
photo via screengrab
]
— —
>> Follow Matt Wilstein (@TheMattWilstein) on Twitter
Have a tip we should know? tips@mediaite.com