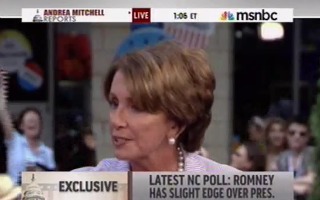 House Minority Leader Rep. Nancy Pelosi appeared on MSNBC with Andrea Mitchell on Monday ahead of her party's national convention in Charlotte, North Carolina. She talked with Mitchell on a range of issues, including the role of women at the DNC, President Barack Obama's leadership and her stewardship of the last Congress in which she served as House Speaker.

Mitchell asked Pelosi about the visible role of women at the GOP presidential convention and how Democrats intend to counter that by featuring prominent Democratic female officeholders.
Pelosi said that the convention will feature female Democrats which will address issues women care about – health care reform, the right to choose as well as women in the workplace. "We are very proud of the women who will be presenting at this convention, starting with our chairman [Rep.] Debbie Wasserman Schultz," said Pelosi.
Mitchell asked Pelosi about how the low opinion of Congress may impact the 2012 elections, to which Pelosi responded that she thought it was interesting that the Congresses she controlled when Bush was president did not inspire this low of an approval rating.
"I think the disfavor is springing from the obstruction of the Republican Congress to any initiatives or offering of overtures to the Republicans to work together," said Pelosi. "I don't even know who the 18 percent are – do you approve of how Congress has obstructed President Obama? I don't think so.
Pelosi turned to defending the 111th Congress, the last that she presided over as House Speaker and the first under President Barack Obama. She said that this Congress was especially active and passed sweeping legislation like the Lilly Ledbetter Equal Pay Act and The Affordable Care Act.
"President Obama was a job creator from day one," said Pelosi. "It's important to know that more jobs in the private sector were created under the leadership o president Barack Obama in one year than in the eight years total of the Bush administration."
Pelosi said that the 111th Congress was one of the most productive in history, but some of that progress was blocked by Congressional Republicans.
Watch the segment below via MSNBC:
> >Follow Noah Rothman (@Noah_C_Rothman) on Twitter
Have a tip we should know? tips@mediaite.com