Nancy Pelosi to MSNBC's Andrea Mitchell: Harry Reid a 'Master at Work' During Shutdown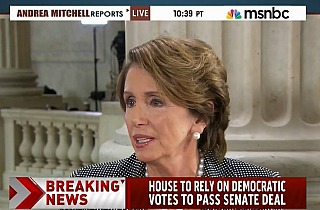 House Minority Leader Nancy Pelosi (D-CA) sat down with MSNBNC anchor Andrea Mitchell on Wednesday to discuss what appears to be a deal which is poised to end the government shutdown and raise the nation's borrowing limit. She criticized the unfocused Republican members of Congress and praised Senate Majority Leader Harry Reid (D-NV) who she said had been "a master at work" during the shutdown.

"Have you ever seen anything quite like this, a battle over what most people felt was nothing — nothing relevant to the issues at hand?" Mitchell asked.
"I think that Republicans even forgot what they were shutting down government for," Pelosi replied.
Pelosi said that the shutdowns of 1995-1996 were equally pointless and were centered on then Speaker Newt Gingrich's desire to save face "because he didn't like a seat he got on a plane."
RELATED: Harry Reid, Mitch McConnell Announce Bill to End Shutdown, Raise Debt Ceiling
"I think part of it is they don't want our president to have the successes our country needs," she added in an effort to explain the thinking of her Republican colleagues.
She commended Speaker John Boehner (R-OH) for bringing the bill which would end the crisis expected to pass in the Senate up for a clean vote in the House.
"I never saw anything like what Harry Reid did," Pelosi added. "To watch him was to watch a master at work. He was superb — intellectually, politically astute. And just the sheer stamina of it all."
Watch the clip below via MSNBC:
[Photo via screen grab ]
— —
> >Follow Noah Rothman (@NoahCRothman) on Twitter
Have a tip we should know? tips@mediaite.com