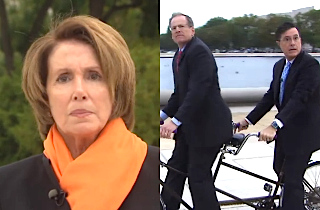 House Minority Leader Nancy Pelosi (D-CA) infamously banned all of her Democratic members from appearing on The Colbert Report, which explains why so many of the congresspeople profiled in Stephen Colbert's long-running "Better Know a District" segment were Republicans. So it was an unexpected surprise when Pelosi popped up in the final installment of his 435-part series last night.
As Colbert recapped during his show Tuesday night, "I have fenced with Marsha Fudge, I've skateboarded with Jackie Speier, I leg wrestled Jason Chaffetz, I've tossed salmon with Jim McDermott, I've drank beer with Russ Carnahan, I've shotgunned beer with Dan Maffei, I've funneled beer with Jared Polis, and I've dropped acid with Maurice Hinchey."
In 2006, shortly after Colbert set out to interview every member of Congress, Pelosi said, "I wouldn't recommend that anyone go on the show. I would think that it would be okay to go on if you were live-to-tape, but don't subject yourself to a comic's edit unless you want to be made a fool of."
But in 2012, she decided to relent on her conviction in exchange for help from the host in promoting her DISCLOSE Act, which aimed to make political contributions more transparent. A few months later, the legislation died in the Senate.
Ultimately, Colbert did not come close to reporting on every single Congressional district, so for his last go at it, he decided to return to the beginning to revisit Rep. Jack Kingston (R-GA), who was his first subject back in October of 2005. The host tried to go through the motions of asking him policy-related questions and making remarks like, "You were my first congressman. You know what they say about your first. It's over much quicker than you thought, and afterwards there is a lot of weeping."
But with Kingston retiring from Congress at the end of this term and Colbert wrapping up his final few shows before heading to CBS, all they really wanted to do was have fun. What followed was one of the most joy-filled, (ostensibly) bipartisan montages to ever occur on Capitol Hill.
That is until Pelosi showed up to scold the pair for not wearing bike helmets before demonstrating that she can have fun, too.
Watch video below, via Comedy Central:
And you can watch Colbert's first interaction with Kingston from 2005 below:
[Photo via screengrab]
— —
>> Follow Matt Wilstein (@TheMattWilstein) on Twitter
Have a tip we should know? tips@mediaite.com