Napolitano Blasts FBI: Petraeus An Adulterer But Doesn't Lose Constitutional Rights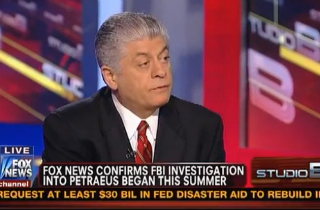 Appearing on Fox News' Studio B this afternoon, Judge Andrew Napolitano broke down the legal questions surrounding the FBI's investigation into Gen. David Petraeus' extramarital affair with his biographer Paula Broadwell, criticizing it as "unwarranted" and "troubling."
"In order for the FBI to be reading the e-mails of the chief spy of the United States, the director of the CIA, they would either need a search warrant from a federal judge in which case they would have to demonstrate to him that the general himself was involved with, or possessing evidence of a crime," the judge explained to host Shepard Smith. "Or they would have to write their own search warrant under the PATRIOT Act in which case they'd have to satisfy themselves that the general was involved in terrorist activity. Both of these is absurd. Neither of them could form the basis for this."
The Fox News judicial analyst then said that "the FBI has a lot of explaining to do" because the only other way to watch the emails of Petraeus would have been to hack into a CIA computer, constituting a crime.
"What were FBI agents doing monitoring the secret emails of the director of the CIA?" a baffled Napolitano asked. "How is it that the CIA didn't know about it? Because the FBI surely knew about General Petraeus' personal behavior long before this. They knew about it when they investigated him, when they did a background check of him prior to his confirmation. They knew of the relationship with Mrs. Broadwell then."
He continued: "It is troubling because there are laws that the FBI has to follow, and General Petraeus, just because he is an adulterer, doesn't lose his constitutional rights. He has the right to be protected from an unwarranted, unjustified investigation by the FBI or anyone."
Smith remarked that there seem to be a whole host of elephants in the room with this story.
In response, Napolitano noted that the FBI and CIA have long been rivals, adding that "we do not know if this is anything more than the FBI poking itself into the ribs of their long time rival, the CIA."
Smith and Napolitano then noted the possibility that Petraeus no longer has to testify about the September 11th Benghazi attacks. "If he was going to testify next week as the CIA director, he would have been met with a mountain of evidence to contradict what he said under oath," Napolitano said. "So this trigger could have been pulled to save him from perjury or to save the president from severe embarrassment."
"We have no information to suggest neither of those is right," Smith cautioned and Napolitano agreed, but the host concluded that either way, "it appears that could be the outcome."
Watch below, via Fox News:

— —
>>
Follow Andrew Kirell (@AndrewKirell) on Twitter
Have a tip we should know? tips@mediaite.com