Judge Napolitano: Gov't Wrong Not To Label Ft. Hood 'Domestic Terrorism' Like Sikh Temple Shooting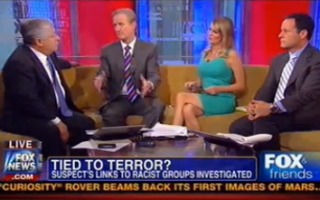 Judge Andrew Napolitano stopped by Fox & Friends' curvy couch Tuesday morning to explain what makes an event an "act of domestic terrorism," as the weekend's shooting at a Sikh temple in Wisconsin has been described.
"The legal definition of terrorism is two or more acts of violence intended to change the policy of the government by scaring the population or by scaring the government," the Judge explained. Asked whether this definition applies to the Wisconsin temple, Napolitano replied that the shooter, Wade Michael Page, appears to have been "a disgruntled nut job who hated Muslims, didn't know the difference between Sikhs and Muslims, and thought by killing the Sikhs, he was somehow going to eliminate the Muslim population. It was an absurd way of thinking, but not domestic terrorism."
On the other hand, he added, the Ft. Hood shooter who killed members of the military in the place where they work while condemning the behavior of the government would constitute an act of domestic terrorism, although the government has not described it as such. Asked why this would be the case, the Judge explained that "there is a political ramification to calling something terrorism. It scares people; we look at it more closely."
Kilmeade then noted that Page and others had been closely monitored given that their aim, as a group of white supremacists, was to wipe out anyone who isn't white. "If these people planned the assault and helped him, they can be prosecuted under the terrorism laws," the Judge noted.
Have a look at their conversation, via Fox News:
Have a tip we should know? tips@mediaite.com