NARAL Pro-Choice President: 'We Were The First Out Of The Gate To Call Attention' To Gosnell Case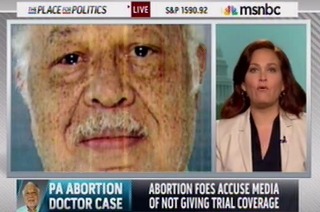 NARAL Pro-Choice President Ilyse Hogue appeared on MSNBC on Monday where she claimed that her organization was "the first" to draw attention to the case of the late-term abortion provider Kermit Gosnell who is accused of murdering several infants born alive. Hogue contended that Gosnell was allowed to operate as a result of the actions of pro-life groups which advocated for restrictions on abortion that drove reputable practitioners in Pennsylvania out of business.

MSNBC anchor Thomas Roberts said that NARAL came under fire from conservatives for ignoring the Gosnell case and its implications for the practice of late-term abortion in the United States. Hogue said she disagrees with that assessment.
RELATED: Advocacy Media: Pro-Choice Advocate Spouts Outright Falsehoods Unchecked On MSNBC
"I think the American people join me and my organization in being outraged that this man was able to operate for years preying on poor women who need – desperately needed safe and clean medical services, but were unable to get it because of the restrictions that drove credible and reputable doctors and providers out of business in Pennsylvania," Hogue replied.
"We were the first out of the gate to call attention to this case," she added. "As the anti-choicers try and restrict more and more doctors out of business, they are the ones keeping the Kermit Gosnells operating."
"This wasn't a failure regulation, it was a failure of enforcement," Hogue continued, "and they drove poor, desperate women into the clutches of this monster."
Asked if NARAL had an obligation to expose practices like Gosnell's, Hogue replied that the onus is on "us as humans" to expose doctors who "do not hold their patient's best interest at heart."
Watch the clip below via MSNBC:
> >Follow Noah Rothman (@NoahCRothman) on Twitter
Have a tip we should know? tips@mediaite.com