NASCAR Boos Vs Lyin' Ass Bitch: How Have The Media Treated Michelle And Michele?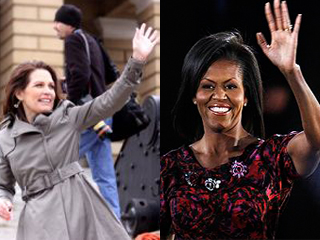 In the span of four days, political media types have been tested twice by two very different incidents of female disrespect in the national political discourse. Much of the media, ideological and otherwise, were quick to note that a crowd of NASCAR fans booed First Lady Michelle Obama— some more sympathetic than others. The second test occurred last night as The Roots played the song "Lyin' Ass Bitch" as Rep. Michele Bachmann walked onto the set of Late Night with Jimmy Fallon. The treatment of both leave one to the conclusion that defending women from classless attacks is simply not good for the media business if that woman isn't an attention-grabbing supernova.
First Lady Obama had visited a NASCAR event to begin the race, and was received with boos by a crowd that seemed to disagree with… well, as it was a crowd, it was entirely unclear what their particular grievances were. Many in the media were quick to speculate, however. Rush Limbaugh blamed Obama's "uppity-ism" in enjoying arugula and being fat. The luminaries at Big Government tried to tie those offended with the booing to the Occupy Wall Street protester who defecated on a police car. Newsbusters took offense at the idea that it was "unclear" what the crowd was booing for. Not all the response was confused and angry at those who would consider the booing of a First Lady at a non-political event offensive and improper: Red Eye's Andy Levy, a professed NASCAR fan, called out the booers in a segment on his program Monday night. Media Matters weighed in as well, writing four posts on the matter but focusing on Limbaugh rather than the incident itself.
With a near-overnight turnaround between this story and The Roots' (and Jimmy Fallon's) regrettable display on Monday night, those who would expect the media sources excusing the Obama incident to defend Rep. Bachmann vehemently were, to some extent, subdued in their defense. Big Hollywood responded calling the incident "vile." Newsbusters demanded the National Organization for Women stand up and defend Rep. Bachmann– a demand notably absent from their analysis of the Obama affair. Greta Van Susteren, who had Rep. Bachmann on her program the same night as Fallon, did not issue a statement herself, but lauded the statement of Rep. Nita Lowey defending her colleague. The most damning attacks on Fallon came from Glenn Beck, who took the fight personally to Fallon by calling him a "despicable human being" for his participation in the matter. While Media Matters has yet to cover any of the story, Senior Fellow Eric Boehlert did call the incident "not cool" on his Twitter account.
NEXT PAGE: Why Michelle Obama and Michele Bachmann Don't Spark More Outrage
Have a tip we should know? tips@mediaite.com