National Association Of Black Journalists Names Roland Martin Journalist Of The Year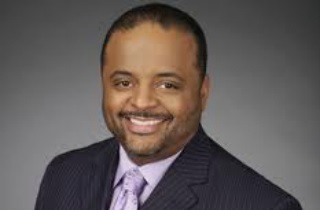 For at least the next week or so, CNN can boast another award-winning journalist as part of the network's roster of talent. CNN contributor Roland Martin, who departs the network on April 6, has been named the National Association of Black Journalists' (NABJ) 2013 Journalist of the Year. The award follows a February meeting between the NABJ and new CNN honcho Jeff Zucker to discuss concerns over Zucker's vision for the network, and the subsequent announcement that Martin's contract would not be renewed. Roland Martin will still host Washington Watch for TV One, plus continue his regular radio appearances  and syndicated column, once he departs CNN's air.
From The NABJ's press release:
The National Association of Black Journalists (NABJ) announced today that Roland S. Martin, nationally syndicated columnist, television host, and radio and television commentator, is to receive the organization's Journalist of the Year award. It is one of NABJ's most coveted honors celebrating the accomplishments of black journalists and those who support blacks in the media. Martin was selected for the award by NABJ's Board of Directors.

Martin currently is host and managing editor of TV One's Washington Watch with Roland Martin, and a senior analyst for The Tom Joyner Morning Show. He is also a nationally syndicated columnist with Creators Syndicate and a contributor to CNN.

"Roland Martin has had an enviable career as a multimedia journalist, becoming a respected and trusted voice in print, on air and online," said NABJ President Gregory Lee, Jr. "He is unapologetic about his quest to provide well-rounded coverage of the African-American community, and to provide unique insights to diverse audiences across the many platforms on which he is asked to contribute on a regular basis."
Martin said he was thankful and humbled by the award, and "hope(s) this honor serves as a lesson to any young or veteran journalist that Black media platforms are just as essential and important to us today as they have always been. Before CNN, TV One offered me a TV platform for my commentaries, as well my own show. After CNN, TV One and Tom Joyner, are still there. It pleases me greatly to be at a place where our voices and images are the norm, and not the exception."
According to the press release, members cited Martin's coverage of voter suppression in awarding him the honor.
CNN, under Zucker, has taken criticism in the early stages of an overhaul that has seen the departures of Martin and Starting Point host and 2011 NABJ Journalist of the Year winner Soledad O'Brien, but at least publicly, Martin has diplomatically endorsed a "wait and see" attitude. Roland was asked about it, point-blank, in a recent interview with Ebony's Brooke Obie:
EBONY: But with the loss of Soledad O'Brien and now you, and Jeff Zucker naming Jake Tapper the 'face of the new CNN,' do you think that the vision Zucker has for CNN may be a 'White-out?'

RM: Look, I don't know. We haven't seen the full vision [of Zucker yet]. That determination will have to be made later; it's very early in the game. That's pretty much all I can say to that. One of the things I always talk about is having multiple opportunities, multiple platforms and revenue streams to be able to layout your message. At CNN, I just come in when they call but I have had the advantage of having other platforms where I was able to talk to cabinet secretaries and the First Lady and the Vice President, the President and Senators. And I think that what's most important is, I've always kept a foot in Black media. I'm absolutely committed to building up Black media and I think that is absolutely important in 2013 that we have strong Black cable networks, strong Black websites, magazines, and newspapers where we're able to focus on our issues and our stories and highlight our people and not necessarily wait for somebody else to do it.
Despite being able to boast an NABJ award-winning journalist, CNN has, thus far, not. Boasted, that is. The network has yet to publish any sort of statement or press release congratulating Roland for his award.
Have a tip we should know? tips@mediaite.com