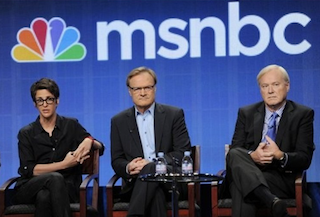 The National Review is out with long article Monday morning that examines one possible solution to the recent controversies that seem to have consumed America's "left-leaning" cable news network. "In recent months, Alec Baldwin, Martin Bashir, and, most recently, Melissa Harris-Perry have awkwardly crashed into the trinity of sexual orientation, gender, and race," media editor Eliana Johnson writes, "leading many to wonder if there are any adults in charge at MSNBC."
"There is one such adult, actually," Johnson continues, "and her name is Rachel Maddow." What follows is a profile of Rachel Maddow's that claims the prime time host and frequent ratings leader for the network has more say over its editorial direction than president Phil Griffin. Johnson also suggests that the reason why Melissa Harris-Perry won't be cast aside, like Alec Baldwin and Martin Bashir before her, for making jokes about Mitt Romney's black grandson is because she is "part of Maddow's in-crowd, the liberal, wonkish elite now ascendant at MSNBC."
Johnson sees Maddow's "fingerprints" on "young wonks" Chris Hayes, Ezra Klein and Alex Wagner, who she suggests call Maddow "the queen" behind her back.
With the exception of Harris-Perry, who has been known to court controversy on occasion, Maddow's "wonks" are more focused on policy, and therefore less likely to say something that will blow up in MSNBC's face. That also means they struggle to deliver solid ratings for the network. As Johnson points out, Chris Matthews, Ed Schultz, and Al Sharpton regularly bring in better ratings than Hayes, who has the better time slot at 8pm.
In the wake of the Baldwin, Bashir and Harris-Perry controversies, MSNBC has tasked producer Rich Stockwell with reviewing all scripted material before it goes on the air. But if MSNBC continues to move in Maddow's direction, as Johnson suggests, the network may not have that much to worry about.
Read Johnson's full story at NationalReview.com.
UPDATE (2:00pm ET): Maddow and MSNBC have responded to the National Review article, calling its claims "categorically false." Read their full responses here.
[photo via screengrab]
— —
>> Follow Matt Wilstein (@TheMattWilstein) on Twitter
Have a tip we should know? tips@mediaite.com