National Review Reporter Smacks Down Conservative Spokesman Who Claimed Boehner Would Resign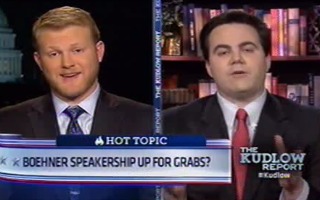 Spokesman for American Majority Action, Ron Meyer Jr., has made waves recently with claims that House Speaker John Boehner (R-Oh) would either resign his position or be forced out by fellow conservatives. On Wednesday night, Meyer joined National Review's Robert Costa with CNBC's Larry Kudlow where he attempted to justify his claims. Costa, a seasoned Congressional reporter, said that he has heard nothing remotely like the coup Meyer was describing from his sources in the House Republican conference.

RELATED: GOP Activist Group Spokesperson Cites 'Senior Sources' That John Boehner Will Resign Speakership Tonight
On Wednesday, Meyer took to MSNBC where he claimed that Speaker Boehner (R-OH) would resign the speakership later that night. When that did not occur, Meyer joined CNBC where he said that House Republicans were preparing to mount a coup against Boehner after Thursday's swearing in of the 113th Congress.
"My take is that before this conference, we definitely had 20 members who were willing to do this," Meyer told Kudlow. "The fact of the matter is that I think Boehner and the conference tried to convince people that he would be hard on spending, that he would be tough on these things. But I'm not sure that's the case."
"I think the point is that Speaker Boehner will lead the House GOP out of the majority in 2014," Meyer claimed.
"I'm going to have to throw a little bit of cold water on all of this anti-Boehner chatter," replied National Review's Congressional reporter, Robert Costa. "Is there discontent within the rank and file Republican members in the House? Yes, there is. Is that going to be enough to mount a coup, to mount a revolt tomorrow on the House floor? I very much doubt it."
"Eric Cantor, Kevin McCarthy, the whip, did they vote against the plan? Yes. But just because you vote against the plan doesn't mean you're about to run against the Speaker of the House of Representatives," added Costa. "Boehner is going to be fine tomorrow."
"Maybe a few people will vote present, maybe a few troublemakers will vote against him, but the majority will be with Boehner," Costa said.
"Nobody is going to vote present," Meyer shot back before outlining the case why he thinks Boehner will be voted out as Speaker.
First of all, five members ran on not voting for Speaker Boehner. Five new freshmen coming in tomorrow, that will be sworn in tomorrow said that they would not vote for John Boehner for Speaker. We've heard four or five others say publicly they won't vote for John Boehner for speaker. And so, I can tell you that I've talked to enough members where there are more than 20 people considering this option. So, it's a legitimate plan.
Costa replied to this by saying that there is no reason for Cantor to risk his political career by attempting to unseat the Speaker when he could just wait for another cycle or two to become the GOP conference's ranking member.
"As a reporter, I've been at the House caucus meetings and I have heard nothing about papers from Cantor or anything else," Costa concluded.
> >Follow Noah Rothman (@Noah_C_Rothman) on Twitter
Have a tip we should know? tips@mediaite.com