National Review Writer: Obamacare 'The Biggest Mistake That Any Party Has Made in 100 Years'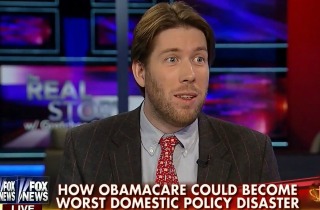 On Thursday, National Review staff writer Charles C. W. Cooke joined Fox News Channel's Gretchen Carlson to discuss President Barack Obama's proposed administrative fixes to the Affordable Care Act. Pivoting to a piece Cooke recently wrote, the National Review columnist said that the ACA may be looked on by history as "the biggest mistake that any party has made in at least 100 years."

Asked first to react to the president's press conference, Cooke said that it might be "the lowest I've ever seen him."
"He looked broken," he added. "And he flailed. He filibustered when he was given the Iran question in the middle, for example. He talked at length. He just desperately didn't want to talk about health care."
RELATED: Rothman: The Media Loved Building Obama Up, They'll Love Tearing Him Down Even More
Cooke added that, while it is possible the president can win back the trust of the American people, "he's in a difficult position because he quite clearly lied."
"I think it's possible that, if this does go into the death spiral, that this could be the biggest mistake that any party has made in at least 100 years," Cooke continued.
"Prohibition was terrible, but prohibition was a decision taken fairly broadly," he said, noting that bipartisan majorities passed the 18th Amendment and a majority of American states ratified it. "If he does lose this, if the president does lose this, the Democratic Party's credibility on this issue is going to be damaged, as is trust in government."
He also pointed to the 1988 Medicare Catastrophic Coverage Act, which he said was essentially "repealed one year later by basically the same people who passed it."
Another example of this effect, he said, is the Iraq War which is remembered as a Republican policy failure in spite of the bipartisan majorities that approved military action.
"Goodness knows if this will be like if it does collapse," Cooke concluded.
Watch the clip below via Fox News Channel:
[Photo via screen grab ]
— —
> >Follow Noah Rothman (@NoahCRothman) on Twitter
Have a tip we should know? tips@mediaite.com