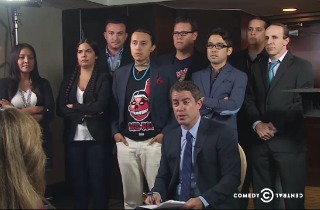 Before The Daily Show aired a segment on the Washington Redskins, Redskins fans who participated complained to The Washington Post that they felt threatened and intimidated by the surprise showdown with Native American activists. One woman, Kelli O'Dell, claimed she left in tears and was so worried about being threatened, she called the police.
Well, now we're hearing from one of the Native Americans who participated in the segment, and he, too, claims he felt threatened. Migizi Pensoneau, a member of the Native American comedy group the 1491s, wrote a piece for the Missoula Independent detailing how he felt unsafe during parts of the filming.
Pensoneau explains that when he and the others walked in the room where the Redskins were for the big surprise/face-off, "there was a wonderfully uncomfortable silence."
RELATED: Concha: Redskins Fans in Daily Show Ambush Could Make Legal Case Against Stewart
It didn't last long, but Pensoneau claims that O'Dell, the same woman who told WaPo she felt threatened, started to cry and one of the other Native American guests gave her his handkerchief. He says, "It was an intense situation, but never mean-spirited."
In fact, he thinks he knows why she felt threatened in the first place, saying, "I realized that was her defense mechanism, and that by overly dramatizing her experience, she continued to trivialize ours. It was privilege in action. And as I realized these things, something else became incredibly clear: She knew she was wrong."
But then they went to a Redskins Nation tailgate, and that's when Pensoneau started to feel uncomfortable:
There were points during that hour-long experience where I actually was afraid for my life. I have never been so blatantly threatened, mocked or jeered. It was so intense, so full of vitriol that none of the footage ended up being used in the segment. I'm a big dude—6'1", and a lotta meat on the bones. But a blonde little wisp of a girl completely freaked me out as I waited in line for the bathroom. "Is that shirt supposed to be funny?" she asked motioning to my satirical "Caucasians" T-shirt. And then she said, "I'll fucking cut you." Actually, she didn't scare me so much as the wannabe linebackers standing behind her who looked like they wanted to make good on her threat.
You can watch the segment here, via Comedy Central:
[h/t Raw Story]
[image via screengrab]
— —
Follow Josh Feldman on Twitter: @feldmaniac
Have a tip we should know? tips@mediaite.com
Josh Feldman - Senior Editor