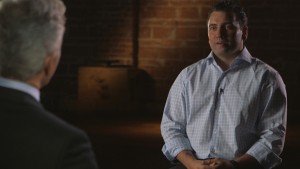 A retired Navy SEAL, under the pseudonym Mark Owen, is speaking to 60 Minutes about the book he wrote giving a firsthand account of the raid that successfully took out Osama bin Laden. 60 Minutes disguised his identity and altered his voice for the interview. Owen discussed the SEAL team's rehearsal of the raid and even addressed the political controversy surrounding his book.
RELATED: Fmr. SEAL Commander Tells Soledad O'Brien It's Hard To Get 'Straight Story' Out Of This Administration
Owen walked Scott Pelley through the rehearsal of the raid, which was conducted under the watchful eye of military leaders.
"This is nothing new to us. The part that was new was all the VIPs sitting there watching. One of the things that I like after the fact was– I remember Admiral Mullen coming by and talking to each one of us and then Admiral Olsen as well. And I thought that was cool that, you know, they walked by, shook each of our hands, and said, 'Hey, are you guys ready? Can you guys pull this off?' And I'm pretty sure to a man we all said, 'Yes, absolutely.'"
Pelley brought up the political controversy surrounding Owen's book, and the criticism that "the book is timed to influence the election." Owen denied that there were any political motivations to his decision to tell his story.
"This book is not political whatsoever. It doesn't bad mouth either party, and we specifically chose September 11th to keep it out of the politics. You know, if these– crazies on either side of the aisle want to make it political, shame on them. This is a book about September 11th, and it needs to rest on September 11th. Not be brought into the political arena, because this– this has nothing to do with politics."
The interview will air next Sunday, but excerpts will be available to watch tonight on CBS Evening News.
—–
Follow Josh Feldman on Twitter: @feldmaniac
Have a tip we should know? tips@mediaite.com
Josh Feldman - Senior Editor