Navy Yard Shooter's Mom Speaks Out: 'Glad' Aaron 'Can No Longer Do Harm to Anyone'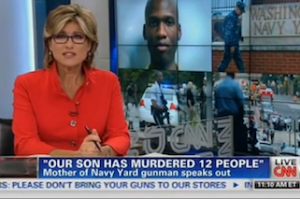 The mother of Aaron Alexis, who allegedly murdered 12 innocent people at the Washington Navy Yard Monday morning before getting killed by police, spoke out for the first time Wednesday, apologizing to the victims and expressing thanks that he son won't be able to hurt anyone else. Cathleen Alexis delivered an audio statement to reporters, a portion of which was played on CNN.
"His actions have had a profound and everlasting effect on the families of the victims," she said. "I don't know why he did what he did, and I'll never be able to ask him why."
Alexis added that "Aaron is now in a place where he can no longer do harm to anyone, and for that I am glad. To the families of the victims, I am so, so very sorry that this has happened. My heart is broken."
CNN's Deborah Feyerick reported that media has been staking out the woman's home since Monday, in an attempt to get a reaction to her son's acts. Alexis allowed the press to audio record her statement, but would not allow any pictures or video and would not take any questions.
Feyerick said Alexis told reporters that many inaccuracies had been reported about her family, but refused to correct them specifically. The mother also told reporters that she's concerned about returning to work, where she doesn't know how the tragedy perpetrated by her son will affect how people treat her from here forward.
Watch video below, via CNN:
[photo via screengrab]
— —
>> Follow Matt Wilstein (@TheMattWilstein) on Twitter
Have a tip we should know? tips@mediaite.com