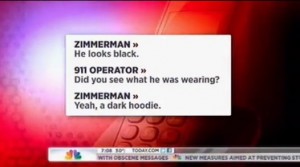 According to a report from South Florida TV News, the person allegedly responsible for the misleading edit to George Zimmerman's 911 call was a local reporter/producer named Jeff Burnside, and he has been fired by Miami NBC affiliate WTVJ. The edited tape gave the false impression that Zimmerman told the 911 operator, unprompted, that now-slain teenager Trayvon Martin "looks black," while the full tape reveals he was asked about the young man's race.
The report says that a producer at the network level, who failed to check the tape because it came from an affiliate, was also fired.
You won't hear it anywhere else but here – insiders have told us WTVJ reporter Jeff Burnside was fired last Friday for allegedly editing the Trayvon Martin 911 tape, the same tape NBC aired on 'Today' in early April. Allegedly, his firing wasn't announced internally and so far there is no information whether NBC made a conclusion if the edit was misleading on purpose or if it was an oversight.

…NBC launched an internal investigation immediately after the incident, and I'm told several people other than Burnside were questioned, at WTVJ and NBC news, including a WTVJ editor or a news photographer who may have worked on the report. Burnside was suspended while the investigation was ongoing but NBC decided he was the producer and fired him last Friday. An NBC network producer who we're told only took the edited tape from WTVJ, without checking it (I'm told it's not unusual since it comes from an affiliate) and could not have known about the edit was also fired in this incident.
NBC News President Steve Capus told Reuters, earlier this month, that the edit was made in order to fit the time constraints of the network's morning news show The Today Show, and that the misleading nature of the cut was unintentional.
The Today Show clip  in question featured this quote from George Zimmerman:
Zimmerman: This guy looks like he's up to no good. He looks black.
The transcript of the actual 911 tape, though, read like this:
Zimmerman: This guy looks like he's up to no good. Or he's on drugs or something. It's raining and he's just walking around, looking about.

Dispatcher: OK, and this guy — is he black, white or Hispanic?

Zimmerman: He looks black.
The Today segment aired on March 22, and again March 27, but according to Mediaite's review of a closed caption transcript database, WTVJ's Jeff Burnside reported on the tape several days earlier. From the TV Eyes database:
jeff burnside is outside the sanford apartment complex with the latest.

reporter: today the u.s. justice department said it was sending in a community relations team but not getting involved with the investigation or prosecution. governor rick scott has no plans to send in state investigators. that leaves the embattled sanford police department to continue with their investigation. they've not arrested george zimmerman who lives right here. that's the centerpiece of most of the frustration. he is claiming self-defense. so far, the sanford police leave him.

oh, my god. oh, my god.

i heard the man saying, help, help. i would have helped if i could have.

reporter: the release of the 911 tapes seems to have fueled more outrage over the shooting death of 17-year-old trayvon martin of miami gardens. the story's been told many times now. martin was visiting this orlando suburb to spend a few days with his dad. while watching the nba all-star game, trayvon walked at halftime to the nearby 711 for skittles and iced tea. when he was 70 feet away from his dad's back door, self-appointed watch captain george zimmerman in his car spotted trayvon and call police.

a suspicious guy. this guy looks like he's up to no good or he's on drugs or something. he looks black.
It appears, then, that the misleading edit was in the affiliate's reporting days before The Today Show aired it, and since the unedited tapes and transcripts were in wide circulation during the intervening days, someone really should have noticed it before it was passed on to The Today Show's audience.
Here's the Today Show segment from March 27, 2012:
Update: The New York Times' Brian Stelter points out that the edited audio was also broadcast on the March 22 broadcast of The Today Show. This post has been updated to reflect this.
Have a tip we should know? tips@mediaite.com