NBC Affiliate Misrepresents Part Of President Obama's 'Principles Matter' Slam On Mitt Romney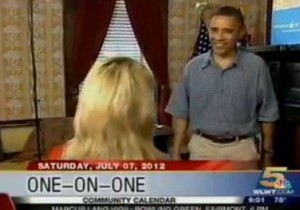 During an interview with WLWT Cincinnati's Sheree Paolello on Friday, President Obama made a splash by chiding Mitt Romney for his latest position change, slamming Romney for succumbing to pressure from "Rush Limbaugh and critics in Washington," and reminding his Republican challenger that "principles matter."
In the clip aired on WLWT, however, the reporter says that President Obama "admitted to me the penalty for not having health care under his plan is a tax," which the President actually didn't say.
It was President Obama who brought up the Affordable Care Act, as an example of the many things Republicans used to support until that support meant agreeing with Obama. "On the health care bill," the President said,  "Mr. Romney was one of the biggest promoters of the individual mandate in Massachusetts. His whole idea was we shouldn't have people who can afford to get health insurance to not buy it and then force you or me to pay for it when he gets sick. That's irresponsible. That's exactly what's included as part of my health care plan."
"The fact that a whole bunch of Republicans in Washington suddenly said this is a tax," President Obama continued, "for six years, he said it wasn't, and now he suddenly reversed himself. And so, the question becomes, are you doing that because of politics? Are you abandoning a principle that you fought for for six years simply because you're getting pressure for two days from Rush Limbaugh, or some critics in Washington?"
"One of the things that you learn as president is that what you say matters, and your principles matter," the President added. "And sometimes, you've got to fight for things that you believe in and you can't just switch on a dime."
The attack on Romney's malleable principles is nothing new, but this is the first time the President has made it directly.
Elsewhere in the interview, President Obama refers to the individual mandate as a "tax, or penalty, or mandate, or whatever you want to call it," but nowhere does he come near to "admitting it's a tax."
We've included the unedited video along with the broadcast version below:
Follow Tommy Christopher (@TommyXtopher) on Twitter.
Have a tip we should know? tips@mediaite.com