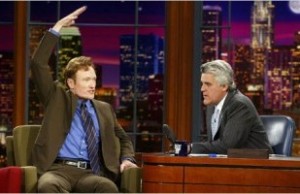 Jay Leno will be exiting the primetime 10 pmET slot starting February 12th to go back to a late night show, NBC Universal TV chairman Jeff Gaspin confirmed to reporters at the Television Critics Association meetings. Via Deadline Hollywood:
Let me get right to it. The Jay Leno Show. On February 12th, Jay Leno will no longer air at 10 PM. While it was performing at acceptable levels for the network, it did not meet our affiliates needs, and we realized we had to make a change. My goal right now is to keep Jay, Conan and Jimmy as part of our late night line up. I have spoken to all of them and proposed that The Jay Leno Show move to 11:35 PM, Conan move to 12:05 AM, and Jimmy to late night at 1:05 AM. As much as I would like to tell you it's a done deal, we know that's not true, " adding that the talks are ongoing.
Gaspin went on to say that Leno, Conan O'Brien and Jimmy Fallon were "incredibly gracious and professional" about the news. "I made the tough call," Gaspin said. "They all understood the situation I was in." The hosts have reportedly been given the weekend to consider the switches.
Mediaite editor-at-large Rachel Sklar, well-versed in the politics of late night, had the following to say about the network's handling of the situation:
"NBC tried to spin The Jay Leno Show as a bold new experiment, but really all they did was put a familiar late-night host on an hour earlier and hope for the best – instead of recognizing that late-night TV thrives where it is for a reason. Now, because of acting in haste and trying to grab on to every ball in the air, they've managed to drop them all.
"At this point, there's no going back and the choice is now Conan's. I doubt he'll stay. They turned what was supposed to have been his triumphant moment – what they offered him back in 2004, what he picked up and moved to L.A. for – and made it about how he was the runner-up, every step of the way. I think that particular red-headed step child will step on over to Fox – and I think the demo will step with him."

NBC confirms Jay Leno out of primetime, network going 'back to basics' [The Live Feed]
Have a tip we should know? tips@mediaite.com