NBC Cuts Out Olympic Tribute To Terrorism Victims During Opening Ceremonies For American Viewers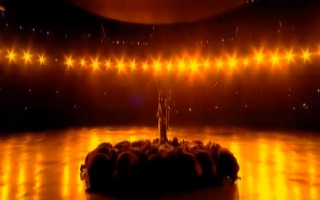 According to a report on Deadspin, NBC's broadcast of the Olympic opening ceremonies lacked a crucial portion of the performance – a nearly six minute long tribute to the victims of the 2005 7/7 terror attacks which occurred less than one day after London was selected to host the 2012 games. (See Update below)

RELATED: Olympics Opening Ceremony Recap: James Bond, Mr. Bean, And 'Leftie Multicultural[ism]'
During the portion of the performance that was not broadcast in the U.S., the BBC announcer asks the audience to observe a moment of silence. "The excitement of that moment in Singapore seven years ago when England won the games was tempered the next day with sorrow from the events of July 7th that year," says the BBC announcer. "A wall of remembrance for those no longer here to share in this event."
Deadspin's Timothy Burke says they have reached out to NBC as to why they felt the need to cut out that portion of the ceremony but has not yet heard back from the network:
[I]t was a rather significant and emotional moment in the opening ceremony, coming just before the parade of nations—and it wasn't aired in the United States. Instead, viewers were treated to a lengthy and meaningless Ryan Seacrest interview of Michael Phelps. NBC regularly excises small portions of the opening ceremony to make room for commercials, but we've never heard of them censoring out an entire performance—especially to air an inane interview. We've asked NBC why they didn't air the tribute, and if they get back to us we'll let you know what they say. In the meantime, enjoy the performance everyone else in the world saw.
UPDATE: An NBC Sports spokesperson responding to the criticism says that it is their policy to shorten for both broadcast constraints and for the sensibilities of the local audience. However, NBC engaged in almost no editing of the Olympic opening ceremonies.
"Our program is tailored for the U.S. television audience. It's a credit to [opening ceremony producer] Danny Boyle that it required so little editing," said the spokesperson.
Watch the video below via The BBC:
h/t Deadspin
> >Follow Noah Rothman (@Noah_C_Rothman) on Twitter
Have a tip we should know? tips@mediaite.com