NBC Execs Don't Believe Trump Is Running For President: 'This Is Donald Being Donald'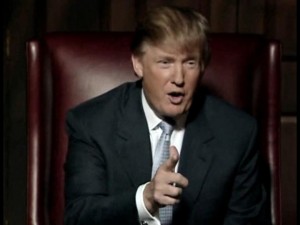 By now, we're all exceedingly familiar with how TV star, businessman, and potential GOP (…or Independent) candidate Donald Trump feels about the "birther" movement, Iraq, and his relationship with black Americans, but, until now, we've yet to be given an answer to one of the most important questions stemming from Trump's would-be campaign: What's going to happen to The Apprentice if he decides to run? And what do executives at NBC feel about his possible run?
According to The New York Times, NBC's need for a hit show like The Apprentice is so great that "it would be a virtual certainty to be renewed were it not for the questions raised by the campaign possibility." The issue at hand here, besides the time Trump will have to take away from filming the celebrity-studded reality series, is NBC's concern that other candidates will request equal screen time from the network.
Another issue that could potentially throw a wrench into the works at NBC is how / whether Trump's success at the network will have any impact in how its other shows, such as Today, will continue to feature, report on and interview Trump. So far, Today's executive producer, Jim Bell, believes it's "silly" to suggest that Trump's show will affect the morning show's coverage of him or his campaign.
But back to The Apprentice. As it stands, the show has several options with which it can go: Either postpone the airing of a new season until after the primaries / general election; hire a different celebrity host to oversee the shenanigans of, say, Gary Busey and Nene Leakes; or place Trump's children – some of whom have already formed a big part of the show – at its helm.
…Or reimagine the show as a American's Next Top Model (or Bad Girls Club)-style death match to the finish, with all the 2012 candidates coexisting in a South Beach penthouse, broadcasting their campaign speeches from a confessional in between naked Twister and rousing beer pong competitions.
It should be noted, however, that The Powers That Be at NBC seem a touch cynical regarding Trump's chances of running in earnest. One executive who would have a hand in the network's decision for how to deal with the show simply shared that that "this is Donald being Donald," before adding that "any decision is still weeks away."
h/t New York Times
Have a tip we should know? tips@mediaite.com