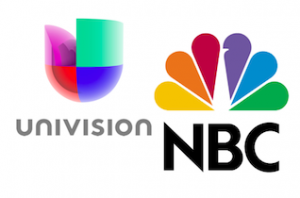 After winning the November 2012 sweeps period for the first time in nine years, NBC is back down and ratings are lower than ever. Deadline is reporting that NBC is currently projected to come in fifth place among the coveted 18-49 demo during this month's sweeps for the first time, even lower than Spanish-language network Univision.
Deadline's Dominic Patten breaks down the numbers as follows:
From the beginning of the February sweep on January 31 through February 19, NBC has averaged a 1.2 rating among adults 18-49. That's below the 1.5 that Univision has been averaging so far over the 20 night of the sweep period. In fact, Univision has bested NBC every single night of the sweep so far among adults 18-49 and is poised to overtake NBC for its first fourth-place sweep finish in the demo.
CBS scored a massive victory in February with a projected 4.9 rating its exclusive broadcasts of Super Bowl XLVII and the 55th annual Grammy Awards. Fox is currently at 2.0 and ABC is at 1.7, though that number could rise after this Sunday's Academy Awards.
Things should rebound slightly for NBC when The Voice and Revolution return in the coming months, but it will take far more than those shows to put them near the top of the ratings heap again.
While NBC's historic low is certainly notable, Univision's success could be the real story here. While that network has briefly topped CBS in the past, this will be its first fourth place finish in a sweeps period. And as the escalating immigration debate in Washington indicates, the Latino voters/viewers in the United States are only becoming more and more influential.
—
>> Follow Matt Wilstein (@TheMattWilstein) on Twitter
Have a tip we should know? tips@mediaite.com