NBC Allegedly Hired 'Psychological' Consultant to Evaluate David Gregory; NBC Counters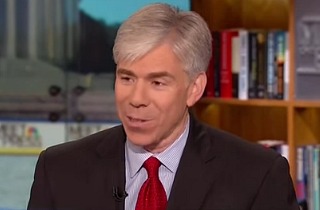 NBC's Meet the Press, the longest running program in television history, has fallen to a solid third place behind its network competitors, ABC's This Week and CBS' Face the Nation.
In August of 2013, MTP fell to a 21-year ratings low against it's competitors and sagged among viewers in the key demographic, aged 25 – 54, to a level of viewership unseen since 1991-1992. The ratings have not recovered since. CBS host Bob Schieffer currently scores the highest ratings with coveted younger viewers.
Amid this ratings meltdown, The Washington Post reported on Monday that NBC is seriously evaluating MTP host David Gregory's performance. "Gregory's job does not appear to be in any immediate jeopardy, but there are plenty of signs of concern," The Post's Paul Farhi reported.
RELATED: What Caused NBC's Meet The Press to Fall Behind Face The Nation and This Week?
Among those "signs of concern" was the network's decision to commission a "psychological consultant" to interview both Gregory's friends and his wife. An NBC representative said the 2013 study was designed "to get perspective and insight from people who know him best," in spite of the fact that Gregory has worked at NBC for two decades.
The Post adds that the current incarnation of MTP has undergone so many revisions in an attempt to regain the audience that the program lost when the former host, Tim Russert, passed away in 2008 that it barely resembles the program he hosted. "As one NBC colleague describes it, Russert is a 'ghost' who still haunts Gregory's tenure at MTP six years into his run," Farhi continued.
The Post's story concludes with the observation that both CBS and ABC are likely to soon lose their current hosts to retirement, which would force those networks to undergo the same re-branding that NBC has embraced over the last six years.
UPDATE: As POLITICO's Dylan Byers found, the online version of this story in The Post omitted a quote from NBC newsman Tom Brokaw which the editors determined could be interpreted as a display of low confidence in Gregory's hosting abilities.
"David knew what he was in for when he took the job," says Brokaw. "Media habits are changing and the competition is getting better. . . . I won't get into whether David is the right guy. NBC has already said he's got the job and that's what counts. But he deserves a fair shot at evolving the program."
The quote was, however, included in Monday's print version of The Post.
—
UPDATE II: NBC released a statement countering that the consultant was not a "psychological" one:
Last year Meet the Press brought in a brand consultant—not, as reported, a psychological one—to better understand how its anchor connects. This is certainly not unusual for any television program, especially one that's driven so heavily by one person.
[photo via screengrab ]
 — — 
>> Follow Noah Rothman (@NoahCRothman) on Twitter
Have a tip we should know? tips@mediaite.com