NBC Launches Internal Investigation Of Misleadingly Edited Zimmerman 911 Call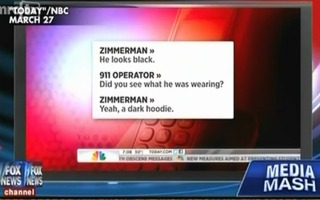 NBC announced on Saturday that it would launch an internal investigation into a misleadingly edited 911 call that aired on the network which featuring George Zimmerman on the night that Trayvon Martin was shot.
The edited call which aired on NBC's Today on March 27 featured Zimmerman talking to a 911 dispatcher. "This guy looks like he's up to no good … he looks black," Zimmerman said in the edited segment.
The Washington Post published an unedited transcript of how that conversation actually occurred:
Zimmerman: "This guy looks like he's up to no good. Or he's on drugs or something. It's raining and he's just walking around, looking about."

Dispatcher: "OK, and this guy — is he black, white or Hispanic?"

Zimmerman: "He looks black."
MSNBC.com published a printed version of that call featuring the edited segment of Zimmerman's conversation with the 911 dispatcher. As of this writing, MSNBC has not yet issued a retraction or apology.
The editing clearly attempts to paint Zimmerman as, at the least, racially insensitive. Why else would he volunteer that Martin appeared to be African American unsolicited? The difference between offering that assessment voluntarily and responding to a 911 dispatcher's request for a suspect's description should be self-evident.
By announcing an internal investigation, NBC has acknowledged the problem. The investigation may find one or several individuals who, in the zealous pursuit of ratings, momentarily forgot about the standards of journalistic ethics that should be applied to a pending criminal case which has also become a national scandal.
What the investigation is unlikely to reveal, however, is the increasingly evident appearance of an institutional proclivity to try George Zimmerman in the court of public opinion. MSNBC's, and to a lesser extent, NBC's viewers have responded positively to the editorial voice on the analysis of the Zimmerman case their ratings have jumped as a result of so/me of the host's rather sensationalist coverage. That does not make it decent or right.
Now a selectively edited call that explicitly misrepresents the facts has been presented to the public as news. That's where NBC has smartly drawn the line. Rational, unprejudiced coverage of this tragic and inflammatory event must prevail here — before the passions surrounding this case spiral beyond NBC's, or anyone else's, control.
Watch the Today Show segment below featuring the edited 911 call:
Watch the Fox News Channel's Hannity segment on NBC's misleading report here:
h/t NewsBusters
Have a tip we should know? tips@mediaite.com