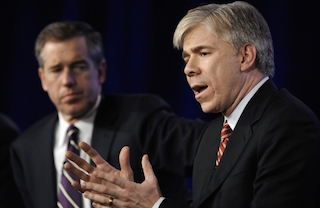 As Lester Holt enters his second week as "temporary" anchor NBC Nightly News, there are fewer and fewer people who actually believe Brian Williams will emerge from his six-month suspension unscathed enough to return to that chair. And while it's possible that Holt will grow into a viable permanent anchor for the nightly newscast between now and August, there is another NBC News personality who may have been an even better fit for the job: David Gregory.
It's been almost exactly six months since Gregory was summarily fired from his role as Meet the Press host and replaced with young upstart Chuck Todd, who has, for the most part, helped keep the show out of the perpetual third-place perch it had found itself occupying. By bringing in significantly more diverse panel of guests, Todd has especially managed to improve the show's ratings in the coveted 25-54 demographic.
As for Nightly News' ratings, just a few days after Williams' suspension the broadcast has lost its spot as consistent leader of the three networks. Already, ABC's World News Tonight with David Muir is out-rating NBC's Holt in both the 24-54 demo and total viewers, reversing a trend that Williams had maintained for years.
But if Gregory couldn't save Meet the Press during the five-and-a-half-year chance he got following the untimely death of moderator Tim Russert, who's to say he would do well on NBC Nightly News?
Regardless of his ability to beat ABC's George Stephanopoulos and CBS' Bob Schieffer in the weekly ratings race, Gregory was undoubtedly a major force in the NBC News operation and a widely trusted name in news. Unlike Williams, Gregory was not punished by NBC for misleading the public, but was rather found to be a generally unsuccessful host of Meet the Press. But maybe that platform wasn't the best use of his talents.
With his enduringly wonky obsession with poll numbers and genuine excitement about all things Washington, Chuck Todd is arguably a much better successor to Tim Russert than Gregory was; he just may not have been quite ready for the big stage back in 2008.
On the flip side, Gregory embodies the straight-ahead news anchor style that was perfected by Brian Williams. When he did let his opinions show, such as the post-Sandy Hook interview in which he waved a 30-round magazine in NRA head Wayne LaPierre's face, he was criticized by the right — and almost arrested. At the same time, when he failed to aggressively confront members of the GOP, he was attacked from the left for lobbing softballs. Maybe a job where he just has to read the news on a nightly basis would be his sweet spot.
Back in 2008 when NBC was still mulling over replacements for Russert, former New York Times media reporter Bill Carter pointed out that one reason Gregory "may get the job is his value to NBC's most dominant property, the Today show" and added that he had "long been regarded as the network's choice to one day succeed Matt Lauer as a Today host."
Just over six years later, Lauer doesn't seem to be going anywhere, but Williams is basically already gone. If NBC had only known six months ago that they would be looking for a possible replacement anchor for NBC Nightly News, maybe they would not have been so eager to give Gregory the boot.
If the network had just held out a little bit longer, they could have gracefully moved Gregory to Nightly News and Todd to Meet the Press, saving themselves some serious drama on all fronts. But given how they've handled late night television in the past, it was never going to be that easy.
[Photo via Reuters/Phil McCarten]
— —
>> Follow Matt Wilstein (@TheMattWilstein) on Twitter
Have a tip we should know? tips@mediaite.com