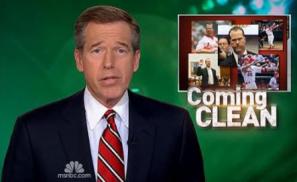 Brian Williams is widely regarded as an objective, unbiased news anchor from his time on CNBC and MSNBC and during his run at NBC Nightly News.
But last night he let down his guard and revealed his bias – about baseball player (and now admitted steroid user) Mark McGwire.
Williams kicked off the evening newscast with the news McGwire had finally admitted to using steroids at several times during his career, including during his 1998 record-breaking season. Yes, it was the lead story at NBC. Meanwhile Diane Sawyer anchored ABC World News from Afghanistan and focused on that story in the lead segment, and Katie Couric and CBS Evening News led with the network's latest poll about Pres. Obama's first year in office and congressional junkets.
Anyway, back to baseball. Here's how Williams started the broadcast:
Because this is a family broadcast, we probably can't say what we'd like to about the news today that Mark McGwire, the home run hitter, the fan favorite from the St. Louis Cardinals, stopped lying today and admitted that he did it while on steroids. For those of us who were raising young baseball fans and baseball players who looked up to Mark McGwire, that summer of '98 was magical stuff, as he and Sammy Sosa vied back and forth for the title of Single Season Home Run King. He didn't tell the truth to Congress or to his fans until finally, formally coming clean today
What would have have said if the Nightly News wasn't a "family broadcast"? And why exactly is Williams using this opportunity to go all Keith Olbermann-talking-about-George W. Bush over one of the hundreds of baseball players who took performance enhancing drugs?
Salon's Glenn Greenwald took on Williams on Twitter:
Walter Cronkite stood up to the U.S. Government over the lies in Vietnam – Brian Williams stands up to a baseball player…
Hopefully, tomorrow Brian Williams will lead his broadcast with a probing, fearless, outraged investigation of cheating in spelling bees.
Or how about just giving 22 minutes of hard news every night?
Here's the opening segment of the Nightly News about McGwire (h/t Gawker TV):

Visit msnbc.com for breaking news, world news, and news about the economy
—–
» Follow Steve Krakauer on Twitter
Have a tip we should know? tips@mediaite.com