NBC News Chief Addresses Ratings Woes: CNN 'Definitely' Benefits From 'Breaking News'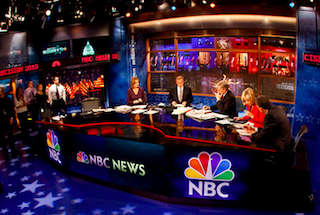 Patricia Fili-Krushel took over as chairman of NBCUniversal News Group back in July 2012 and in the time since, NBC News and its cable companion MSNBC have hit some serious ratings lows. In a new interview with The Hollywood Reporter's Marisa Guthrie, Fili-Krushel opened up about the ratings issues and what she and MSNBC President Phil Griffin are doing to make things better.
On Griffin's statement that MSNBC is "not the place" for breaking news:
"Phil Griffin and I have talked a lot about how it's a balancing act: Viewers are coming for MSNBC's personalities, and CNN definitely gets the bump during breaking news. But we have to play in both spaces. When Phil was quoted as saying we don't do breaking news, I know if he could have [taken it back], he would have."
On Meet The Press falling to a 21-year low in the ratings:
"The Sunday shows are about shedding light on policy issues and analysis. We all want bragging rights. But we feel good about the show."
On ABC's World News breaking NBC Nightly News' 4-year streak in the 25-54 demo:
"Well, it happens so rarely. But when you look at the Nielsen sample, nine households are the CNBC sample. That's the flaw. [The entire Nielsen sample] is 40,000 households. We're all in the same boat. Whether it's on iPads or DVRs, we're just not getting access to those metrics. If news consumption wasn't going up, I'd be worried."
Fili-Krushel also touched on the Hillary Clinton mini-series that NBC's entertainment division ended up scuttling after it was criticized by not only the Republican Party, but also NBC News anchors Chuck Todd and Andrea Mitchell.
"After the whole thing broke, [NBC Entertainment chairman] Bob Greenblatt called and said, 'I'm sorry,'" Fili-Krushel told Guthrie. "And I was like: 'You have to do what works for entertainment. It will cause us some issues in Washington, but I wouldn't expect you to tell me what I can't do.'"
As for the criticism from her own employees, she added, "You hate when you become your own story, but you cannot have a news division that is not independent. You will have no credibility, no trust. And I look at this as a public trust."
Read the full interview at HollywoodReporter.com.
[photo via screengrab]
— —
>> Follow Matt Wilstein (@TheMattWilstein) on Twitter
Have a tip we should know? tips@mediaite.com