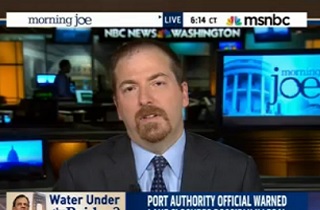 While the mainstream press has done its level best to maintain a presumption of innocence for Governor Chris Christie (R-NJ) in the unfolding Bridgegate scandal, the two-hour press conference that has earned the embattled Guv so much praise is also cracking that presumption. On Monday morning's Morning Joe, NBC News political Director Chuck Todd agreed that Christie's emphatic presser would be "insane" for an innocent man to conduct, but also said "I was having Clinton flashbacks" during the presser.
During a discussion of the scandal, co-host Willie Geist asked Todd, "Chuck, if all of this is true, could you — it just defies belief. If Governor Christie is involved, if he ordered this in some way, do you believe that he would have stood up there for nearly two hours and not just defended himself, but berated the people, calling them stupid, calling them irresponsible and the rest of it?"
"You would have to be crazy," co-host and self-described Christie friend Mika Brzezinski cut in.
"Oh, no, he has to do that," The Last Word host and MJ panelist Lawrence O'Donnell said. "This is the Lewinsky moment. You must deny it."
O'Donnell was referring to then-President Bill Clinton's denials of an affair with White House intern Monica Lewinsky, denials which ultimately were revealed to be false.
Chuck agreed with Geist that "It would be insane to have done that," but added that "Christie spent a lot of his press conference acting like a lawyer and I was having Clinton flashbacks, like he was being very precise with his language, saying things like, 'and I talked to the two people. I only have two people who directly report to me,' and you're going, what? You only have two people in your office that directly report to you?"
Brzezinski tried the reverse-insanity defense once more, explaining that "I've gotten a lot of criticism because people think I'm defending him because he is a friend of mine. When a friend of yours gets caught in a bad situation and looks bad your first instinct is to feel bad and not to seethe with hatred, but having said that, knowing him, if I can bring that into this conversation, I'd be surprised if he would have that two-hour press conference, and say all of those things he said, and then become completely lying. He would have to be mentally ill."
Time Magazine's Mark Halperin delivered a canny refutation of that defense, based on the time-honored Shaggy Doctrine, explaining "You live to fight another day. You hope things change, stuff happens. It's not irrational."
Here's the clip, from Morning Joe:
Have a tip we should know? tips@mediaite.com