NBC News Exec Tells Chris Matthews How He Almost 'Could Have Been Trayvon Martin'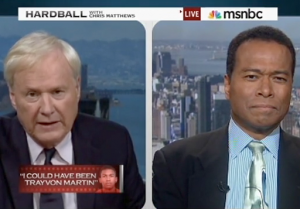 NBC News vice president Val Nicholas wrote a piece today for MSNBC's website titled "I could have been Trayvon Martin." He explains how the George Zimmerman trial dredged some unpleasant memories about his own past as a black teenager. He continued talking about his own experiences with Chris Matthews today, detailing how he's had guns pointed at him twice in his life and how he was once followed by a police car while driving around.
One of the times Nicholas had a gun pointed at him was when he was in a bank, and a policeman held a gun to his back. There was a mistake with alarm activation, but Nicholas noted how of all the customers in the bank, "I was the only one with a gun on me." Former RNC Chairman Michael Steele said this is the story for many black males in America, due to all the perceptions associated with black skin in modern society.
Matthews observed that when he sees black people pulled over on the highway, he wonders if they were fairly pulled over for speeding or if they were going only 2-3 miles over the limit, which, let's face it, everyone does. Nicholas said that he once had a police car "follow me for five blocks while they were running my plates," with Steele talking about a similar story he had to deal with once.
Nicholas then shared this rather morbid piece of advice his father gave him about dealing with cops.
"Never argue, just capitulate, because… there's only three results that can happen from that. One, you go to jail. Two, you go to the hospital. Three, you go to the morgue."
Matthews ended the segment saying with as much humility as you would expect for Chris Matthews, "I'm speaking now for all white people… I'm sorry for this stuff."
Watch the video below, via MSNBC:
—–
Follow Josh Feldman on Twitter: @feldmaniac
Have a tip we should know? [email protected]
Josh Feldman - Senior Editor