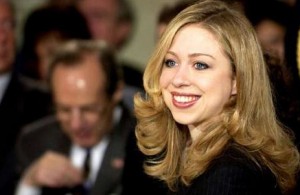 According to a story by Bill Carter in Monday's New York Times, NBC will announce today that Chelsea Clinton has been hired to work on the station's "Making a Difference" series, which highlights the good deeds and works of everyday people. Steve Capus, president of NBC News, told Carter that Clinton will begin work immediately.
Clinton landed the "Making a Difference" spot after Capus heard that Clinton had been "kicking the wheels" on what to do with her life:
Mr. Capus said he had met with Ms. Clinton and had a long conversation that began with a simple question. "I asked her: 'What are you interested in doing?'"

Ms. Clinton told him, he said, that during her mother's campaign for president in 2008, she had been moved by stories of people making personal contributions.
There's no solid idea of what Clinton's exact role night be — she'll report, but also wants to be in the field and help with edits — but Carter suggested that the "Making a Difference" features might eventually find their way to Rock Center With Brian WIlliams, NBC's new Monday night show. Clinton's high-profile presence would likely be welcome with open arms; FOX News' The O'Reilly Factor nearly beat Rock Center in the ratings last week.
NBC has also now completely cornered the market in the "Daughter of a Presidential Candidate Working For Us" category. Clinton marks the third such hire by the network, joining Meghan McCain (contributor to MSNBC) and Jenna Bush Hager (Today show correspondent) in the Peacock's family.
As for Clinton, there's no telling how long this will last or if she'll eventually climb up the ranks. For now, all sides seem hopeful that this will be the beginning of a long and fruitful pairing. "[The job] will be full time for the near-term future," Capus told Carter. "But I hope it's the beginning of a nice, long-term relationship."
Have a tip we should know? tips@mediaite.com