NBC News' Lisa Myers: Obama Admin 'Has A History Of Really Coming Down On People Who Talk To Reporters'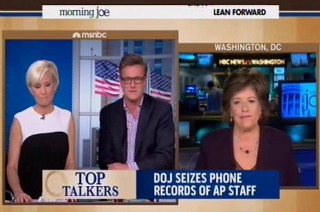 NBC News investigative reporter Lisa Myers told the hosts and guests of MSNBC's Morning Joe on Tuesday that the news that the President Barack Obama's Department of Justice obtained two months of phone records from the Associated Press was not surprising. She said that this White House "has a history" of "coming down on people who talk to reporters."

RELATED: Scarborough, Carl Bernstein Shred 'Inexcusable' Seizure Of AP Phone Records: 'Beyond Incompetence,' It's 'Sinister'
Joe Scarborough and Mike Barnicle began the segment by asking why the president would continue to keep Attorney General Eric Holder in his position in light of this newest scandal.
"I'd be calling Eric Holder into my office and I'd have one question for him: 'you've got to explain to me, Eric, why I keep you on," said Scarborough.
"Absolutely," Barnicle said. "And it is time to go."
"Maybe the larger issue here is what happens to immigration?" Barnacle asked. "What happens to gun control? What happens to every item that's on the agenda for President Obama's second term?"
"Isn't this what reporters have been doing since Vietnam?" Scarborough asked Myers. "Isn't what the Associated Press has been subpoenaed for and attacked for, isn't that the most basic responsibility when they wake up in the morning and go to work and start picking up the phone and making calls?"
"It is," Meyers affirmed. She added that the AP has been "more aggressive" in the last several years in doing investigative work.
"And this administration has a history of really coming down on people who talk to reporters in any capacity," Myers added. "I mean, if somebody has the audacity to say something critical of Obamacare, they take it – usually take it back fairly quickly, or don't speak to reporters at all again, because there is such a focus on keeping the storyline and the narrative the way the administration wants it."
"Sometimes, these efforts can become excessive," Myers concluded.
Watch the clip below via MSNBC:
> >Follow Noah Rothman (@NoahCRothman) on Twitter
Have a tip we should know? tips@mediaite.com