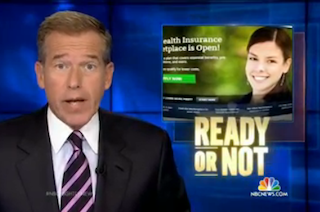 Brian Williams opened NBC Nightly News Wednesday evening with the breaking news that the Obama Administration is planning to move the deadline for individuals to sign up for health care as part of the Affordable Care Act up to six weeks due to ongoing problems with the HealthCare.gov website.
NBC News reporter Tom Costello delivered the details to Williams. "The White House tells NBC News it plans to move the deadline for individuals to be required to buy health insurance by as much as six weeks," Costello said. "As the law stands now, to avoid a tax penalty the uninsured need to start the process by February 15th. With this change the administration is trying to allow people to start the enrollment process by March 31st to avoid any financial penalty."
Costello added that the work to fix the website problems is a "top priority" for the White House. The news comes one day before congressional hearings into what went wrong with the website are set to begin.
According to NBC, the lead federal contractor CGI "will testify that the website passed eight technical reviews prior to going live on October 1st, but also that a late government decision to require customers to register their personal information before they could check insurance prices contributed to the glitches."
NBC News also broke the news on Twitter: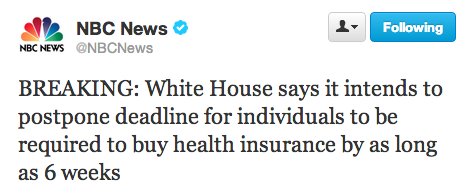 Watch video below, via NBC News:
[photo via screengrab]
Update: The White House has pointed out, several times, that there has been no change to the deadline for the individual mandate, and that the change NBC News is referring to had nothing to do with the Healthcare.gov website. From Principal White House Deputy Press Secretary Josh Earnest (via email):
FACT: The individual mandate timing has not changed. The deadline for signing up for insurance is March 31. It was true this morning. It is true tonight.

· Under ACA, if you have access to affordable coverage but choose to be uninsured for 3 consecutive months in a calendar year, you would face a penalty. In other words, you need to have insurance by the end of March to avoid a penalty in 2014. In the Marketplaces, you have to sign up by the 15th of a given month in order for health insurance to start on the first day of the next month. In other words, you have to sign up by Dec. 15th to get coverage starting Jan 1; or by January 15th to get coverage February 1. As a result, some have asked whether consumers could face a tax penalty if they don't enroll in coverage by Feb. 15th of next year. This is not the case. If you sign up for insurance by the end of March, you will not face a penalty. The guidance that the Administration will issue soon will reinforce this.
White House Press Secretary Jay Carney discussed this issue at Monday's White House Daily Briefing, and explained then that a change like this would be forthcoming. Here's video of that exchange, via C-Span:
Additional reporting by Tommy Christopher.
— —
>> Follow Matt Wilstein (@TheMattWilstein) on Twitter
Have a tip we should know? tips@mediaite.com