NBC News' Richard Engel Released Safely After Kidnapping And Five Day Captivity In Syria
NBC News' Richard Engel Released After Kidnapping, Five Day Captivity In Syria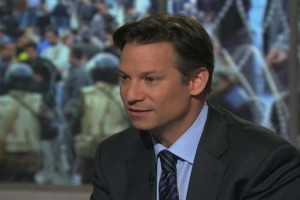 Journalists everywhere are breathing a sigh of relief with the news that NBC News Chief Foreign Correspondent Richard Engel is safe. As foreign press reports emerged, on Monday,  that Engel was missing, NBC News contacted journalists to ask that the story be kept quiet in the interest of Engel's safety, a request that most journalists honored. Early Tuesday morning, NBC News released a statement saying that Engel and his production crew had been released, unharmed, following a kidnapping and five days of captivity.
News that NBC News was unable to contact Richard Engel began to circulate on Twitter Monday morning, along with a report from a Turkish media outlet that was picked up by Xinhua, the Chinese state-run news agency. NBC News contacted journalists within minutes to ask that this report not be circulated, as it might pose a security risk to Engel and his crew, but offered no further news, leaving colleagues to wonder what had happened, and to hope for the best.
On Tuesday morning, NBC News released the following statement:
"After being kidnapped and held for five days inside Syria by an unknown group, NBC News Chief Foreign Correspondent Richard Engel and his production crew members have been freed unharmed. We are pleased to report they are safely out of the country."
Richard Engel and his production team were detained Thursday morning, Eastern time, shortly after crossing into Syria. They were blindfolded and placed in the back of a truck. Although Engel and his team were bound and blindfolded during their detention, they were not otherwise physically harmed.
The team was being moved Monday night when their vehicle was stopped at a checkpoint run by the anti-Assad Ahrar Al-Sham brigade. Following a firefight in whichtwo if Engel's captors were killed, while the remainder escaped, the brigade took them to safety, and later escorted them out of Syria.
During their detention, NBC News had no contact, either with the kidnappers, nor the NBC team. There were no claims of responsibility and no requests for ransom.
Engel and his team are now out of Syria, being evaluated and debriefed.
After so many hours of prayerful uncertainty, this is a bit of extremely welcome news at a time when good news is scarce.
Have a tip we should know? tips@mediaite.com