NBC News Senior Political Editor: Woodward's 'Threatening' Email Was 'Nicest Brushback' A Reporter Ever Got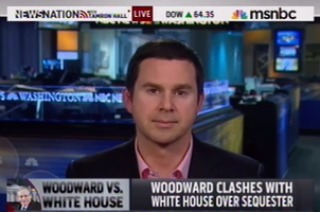 Mark Murray, NBC News senior political editor, appeared on MSNBC with Craig Melvin in Thursday where he offered his thoughts on the ongoing war between Washington Post reporter Bob Woodward and the White House. Murray said the letter that Woodward received was, in his experience, one of the "nicest brushback" emails a reporter has ever received. "It wasn't much of a threat at all," he opined.

RELATED: The White House Is Right, Bob Woodward Will Probably 'Regret This'
After reading a portion of the response email from White House official Gene Sperling to Woodward apologizing for an earlier tense phone call but warning him against pursuing further criticisms of the White House, Murray was asked for his thoughts on the tone of the email.
"Having covered politics for a while now, I would say that that is some of the nicest brushback an administration official or any type of political aide might end up given a political reporter," Murray said.
He said that people in the political reporting industry develop a "thick skin" because they are often confronted by frustrated or irate political communications officials.
"What you were seeing is kind of, almost, the normal sort of give and take between sources and reporters," Murray added. "It wasn't much of a threat at all."
Melvin asked if members of President Barack Obama's administration have developed a thin skin when it comes to critical reporters. Murray said that this is the dynamic between nearly every elected official and the reporters who cover them.
Murray went on to correct Woodward's original reporting, saying that he was incorrect in that the Obama administration always intended for tax increases to be part of the sequester's ultimate resolution.
Watch the clip below via MSNBC:
> >Follow Noah Rothman (@NoahCRothman) on Twitter
Have a tip we should know? tips@mediaite.com