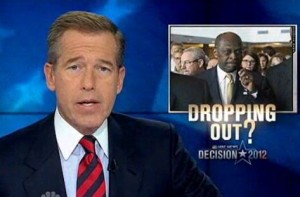 Presidential candidate Herman Cain has run a campaign quite unlike most other candidates before him, but it all may come to an end tomorrow, as many news outlets are now reporting that at his big scheduled announcement tomorrow he will drop out of the race. Brian Williams discussed the impending news with Andrea Mitchell and it's becoming more likely by the second the candidate will withdraw to privately handle his personal baggage.
RELATED: Ben Stein Defends Herman Cain Against Personal Life Allegations: 'He's Not Running For Pope'
Mitchell reported that while Cain's aides are denying their candidate has made a decision, it is likely he will withdraw if for no other reason than to protect his family from the allegations made against him by Ginger White and the women who accused him of harassment. One of the more interesting details of White's story is that even if her relationship with Cain was strictly business, his wife Gloria had no knowledge of the friendship and Cain himself admitted as much.
While it would not necessarily be much of a surprise for Cain to drop out tomorrow, one would wonder why he would right after launching a new website "Women For Cain," which, for all intents and purposes, seems to be the first step in shifting the conversation about the candidate's personal life. Cain might weather the storm or he might buckle under the weight of the allegations, but he will definitely go out swinging.
Watch Mitchell's report below, courtesy of NBC News:
Have a tip we should know? tips@mediaite.com
Josh Feldman - Senior Editor