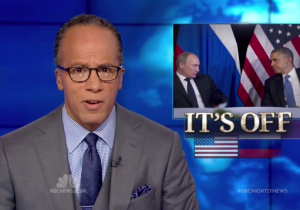 Edward Snowden is many things: a former defense contractor employee, a whistleblower, and a criminal in the eyes of the U.S. government. But does the word "spy" sound appropriate to you? Last night on NBC Nightly News, Lester Holt reported on the news of President Obama canceling a planned meeting with Vladimir Putin, saying it was partly to do with the fate of Snowden, whom Holt referred to as an "accused American spy."
What's interesting is that shortly afterwards, NBC scrambled to redo the open and fix the phrasing, so local markets that aired NBC Nightly News at 7:00 PM EST or later showed Holt describing Snowden as an "admitted NSA leaker" instead.
The United States government has charged Snowden under the Espionage Act and many politicians have said incredibly inflammatory things about Snowden, but no one has quite gone so far as to call Snowden a spy (except a few columnists here and there).
Esquire's Charles Pierce explains the main problem with Holt's error.
A spy has to be spying for someone. Unless you're counting the American public, Snowden's revelations didn't indicate that he was spying for anyone. If that's the shorthand through which the American mega-media is going to describe him, then the story has changed, and it has gone to a very dark place indeed.
However, an NBC spokesperson told The Huffington Post today that while the change was "an editorial decision" made "for the sake of clarity and consistency," the original language they used was technically correct. Which then means it falls to the government to explain who they think he's spying for…
We've collected the original and fixed versions of the reported story from Wednesday night, which you can watch below, via WNBC-NY and KNBC-LA:
—–
Follow Josh Feldman on Twitter: @feldmaniac
Have a tip we should know? tips@mediaite.com
Josh Feldman - Senior Editor