NBC Nightly News Makes New Pitch To Advertisers: Sure Our Viewers Are Older. But They Pay Attention.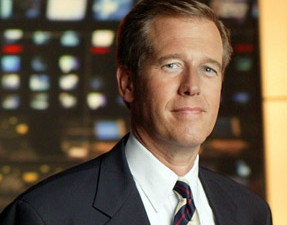 Do you watch the network evening news? Does your Dad? NBC's Nightly News, CBS' Evening News and ABC's World News have long battled perceptions–fueled by the kinds of commercials you see if you watch the newscasts–that their audiences are gray-haired and in need of all kinds of pills, potions and goop to keep their teeth in place. But NBC hopes to freshen up its advertising image with a new pitch: sure we have older viewers, but they pay attention, and they're cheaper to reach with us than with CSI.

"One could argue that, given the long-held perceptions" about evening newscasts, "we haven't gotten the full value that I think we perhaps should have for 'Nightly News,'" John Kelly, senior VP of ad sales for NBC News, told AdAge, conceding that drug makers and "personal care" products make up two-thirds of Nightly's advertising roster.
The new effort by NBC involves comparing Nightly News to popular primetime shows like CSI and The Closer:
Would any advertiser really want to trade in the scores of viewers between 18 and 34 who tend to watch prime time for the pill-popping crowd marketers tend to believe tune in to the daily evening newscast? Since 30-second spots in the three broadcast network evening news shows run anywhere from $23,000 and $45,000, according to media buyers, that's less than a quarter of the about $200,000 it costs to run an ad on Fox's "House" and substantially less than the about $135,000 price tag to run an ad in NBC's own "30 Rock." Indeed, some news veterans think the NBC effort makes sense in an industry where technology is scrambling many preconceived notions.

"Sales rubrics that continue to dwell on the simple number of people a particular form of media delivers will be ill-served. With the scattering of audiences to many distribution platforms, the key to successful advertising in the future is demographic," said Paul Conti, an assistant professor of communication at the College of Saint Rose in Albany, N.Y., and a former longtime news director at NBC affiliate WNYT. "Mass delivery of an advertising message will be effective in mega events like the Super Bowl or the Olympics. With ordinary TV shows or news programs, the more important concept will be the receptivity of the viewers to the message."
And those loyal, attentive Nightly News viewers will be very receptive to your message, at a much lower cost compared to primetime, NBC argues.
Have a tip we should know? tips@mediaite.com