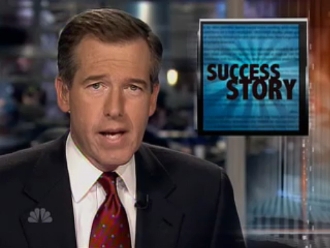 The NBC Nightly News with Brian Williams won the 2008-2009 season – and was the only network newscast to gain viewers year-to-year.
The 2009-2010 season will see a big change, as Diane Sawyer assumes the anchor chair from Charlie Gibson on ABC's World News. But after 13 seasons on top – will ABC or CBS be able to catch NBC?
Here's some of the press release:
"Nightly" had its best total viewer delivery and best total viewer advantage over "World News" since the 2005-06 season, and the best total viewer advantage over "Evening News" since the 1994-95 season. "Nightly" has now won 13 consecutive seasons in total viewers.

Versus the 2007-08 season, "Nightly" was the only newscast to show year-to-year growth. "Nightly" added +88,000 viewers this season, while "World News" dropped by -363,000 viewers and "Evening News" lost -103,000 viewers. Both ABC and CBS had their lowest-ever total viewer season deliveries since at least the start of the People Meters.
People meters started in September 1987, which means this was ABC and CBS' lowest total viewer average in at least 22 years. With the trends the way they are, it's likely the lowest in far longer than that.
Which serves to make NBC's win that much more impressive. Despite the excitement of the 2008 election, which helped cable news but never had a huge impact on the broadcast networks, NBC grew year-to-year. And as viewers leave the network news in higher and higher numbers, for a variety of reasons, NBC has maintained a comfortable lead.
But now Sawyer will come in and shake it up. On the week of the announcement, ABC actually surpassed NBC, albeit for one week only, in the ratings. Will Sawyer's presence help ABC cut into NBC's lead, or open up a chance for Katie Couric to thrive. We'll see in January.
—–
» Follow Steve Krakauer on Twitter
Have a tip we should know? tips@mediaite.com