NBC Political Editor: Hard To See How IRS Controversy 'Lasts Beyond The Summer'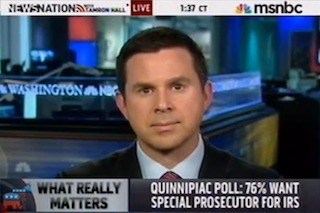 Mark Murray, NBC News' Senior Political Editor, expressed doubt on Wednesday that the IRS controversy could remain in the public attention very long without additional evidence expanding accusations of wrongdoing beyond the ranks of the organization.
"While we're talking about the IRS controversy now, the question is 'Are we're still talking about it by the end of this summer?'" Murray said on MSNBC. "If we are, then that's a problem for the Obama White House. But if we are still talking about it, that means that all the controversy, all those points about singling out, targeting conservative-sounding groups, that went all the way up to the White House, that went all up to President Obama and his top political advisors. If that's the case, that's a problem. If not, I don't see how that story lasts beyond the summer."
Murray called the GOP's focus on the various Obama controversies "smart politics," but noted that certain Republican voices were cautioning against overreach, especially following a Quinnipiac poll showing respondents care more about the economy than the scandals by a three-to-one margin.
"You always want to knick the opposition to be able to have a bad news cycle, maybe a bad news week or two for the Obama White House," Murray said. "However, long term, it might be a problematic strategy…At the end of the day, when it comes to November 2014, those midterms, or 2016, or the elections going forward, the party that's going to win is the one that's speaking to voters."
Watch Murray's entire remarks here:
—
>> Follow Evan McMurry (@evanmcmurry) on Twitter
Have a tip we should know? tips@mediaite.com