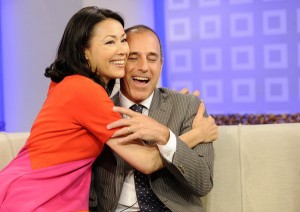 A year after giving her the co-hosting gig, NBC is preparing to replace Ann Curry on The Today Show, according to the New York Times' Brian Stelter. The plan "is taking place in secret and has not been finalized."
RELATED: Did Part Of Matt Lauer's New Deal Include Booting Ann Curry From The Today Show?
Speculation about her departure from the show, and her on-screen relationship with co-host Matt Lauer, has been around for a while now — and "some staffers have placed the blame for the ratings woes." Stelter writes that the network's plan essentially admits that "all is not well" with the show.
In terms of her future role, Curry may shift to a foreign correspondent position, "reflecting her strengths in reporting from disasters both man-made, like the ethnic killings in Darfur, and natural, like the 2010 earthquake in Haiti."
Further background, via NYT:
The negotiations between NBC and Ms. Curry come months after Mr. Lauer renewed his contract at "Today," putting to rest months of speculation about how badly the show would be damaged if he departed. Ms. Curry's departure, similarly, could hurt "Today;" if viewers perceive that she was forced out, they may be turned off by the show, and may literally turn it off as a result.

This concern, expressed repeatedly in the past six months, has slowed down the process of replacing Ms. Curry, according to people at the network. But the process is now clearly under way, and executives in the television news industry believe that changes to Ms. Curry's role on "Today" could be announced as early as next week. The timing is sensitive because in late July, NBC begins to broadcast the Summer Olympics and the "Today" show tags along, transplanting its studio to the host city.
Have a tip we should know? tips@mediaite.com