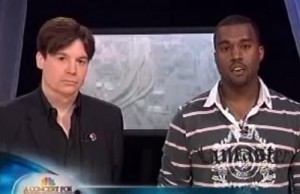 To mark the 10th anniversary of Hurricane Katrina debilitating the city of New Orleans, Slate's Jeremy Stahl talked to many of the behind-the-scenes people at NBC who were working when rapper Kanye West uttered his now-famous line, "George Bush doesn't care about black people."
West, Bush and comedian Mike Myers have all since discussed the incident in one form or another, but know one has ever really heard about what it was like back in the NBC control room. What did the people running A Concert for Hurricane Relief think, both at the time and 10 years on?
There's Frank Radice, who served as musical director and senior producer:
"I remember hearing the words that were coming out of his mouth and looking down at the script and [thinking], 'this is not—this is not going well,' … I remember saying [to someone] 'it was good TV.' "

What made it good TV? "The fact that it was controversial," he said. "And it stopped everything cold." The small studio audience that included celebrities like Lohan and DiCaprio was "eerily quiet."
Executive producer Rick Kaplan, the man who supposedly didn't use the standard 7-second tape delay due to an instructional error (West never cussed), corrected this falsehood. According to him, he never intended to cut Kanye off:
"There was never a thought that we were going to just cut him off," he said. "This was an extraordinary moment, and however ugly it might turn out to be, you don't need to make it uglier."

"Ultimately, it isn't necessarily an ugly moment, it's an honest moment," Kaplan added.
Perhaps the greatest anecdote, however, comes again from Kaplan, who remembers Myers walking up to him after the awkward exchange. While briefly inhabiting the Austin Powers character Dr. Evil, Myers joked, "Well that went well, didn't it?"
Or, as our pal Bill O'Reilly would say…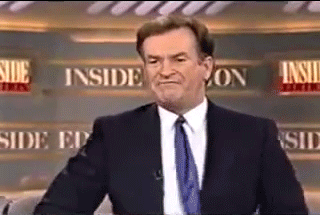 [h/t Slate]
[Image via screengrab]
— —
>> Follow Andrew Husband (@AndrewHusband) on Twitter
Have a tip we should know? [email protected]