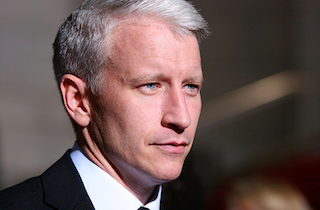 And this where the flurries of Today rumors and CNN rumors come together. According to Deadline's Nellie Andreeva, NBC approached CNN anchor Anderson Cooper to replace Matt Lauer on Today. We've heard a great deal about the show's struggles — and Lauer's image struggle following Ann Curry's exit — and this appears to be latest reported attempt to bounce back.
"I hear NBC toppers recently reached out to CNN's Anderson Cooper to replace Lauer on the show before the end of the year," Andreeva reported. "After their initial approach to Cooper, I hear NBC reached out to Lauer to get his blessing about the changeover."
That blessing from Lauer, whose contract is for a reported $25 million, apparently never materialized:
But I heard they got pushback from the Today veteran, who contacted Cooper to express his disapproval. I also hear that call caught Cooper by surprise, as he had assumed Lauer had been brought on board before NBC began making overtures.
We imagine Morning Show Anderson Cooper would entail a healthy dose of giggling, Ridiculist-esque joy, and solving some interesting mysteries. (And more giggling.)
The CNN anchor, though, was also the subject of another TV report yesterday, which said he and Kathy Griffin, which whom he hosts a New Year's Eve special, filmed a pilot for a potential new show.
UPDATE: According to the Hollywood Reporter, "NBC executives and sources close to Anderson Cooper say the network did reach out" to Cooper, but not for Lauer's job.
According to an NBC executive, the network has "exploratory talks with talent inside and outside of the network. But to read anything specific into that is presumptuous."

Furthermore, sources close to Cooper say he is not interested in trading globetrotting for 4 a.m. wake up calls. And NBC News senior vp Alexandra Wallace told THR in a statement: "As we've said before, Matt Lauer is the best in the business. We want him in the Today show anchor chair for many years to come."
UPDATE II: The New York Times' Brian Stelter got in on the story, reporting that "three people with knowledge of the call confirmed that it happened, and said they too were taken aback by it."
Mr. Cooper may have told NBC he was not interested. Nonetheless, the entreaty indicates that NBC executives are actively talking about a succession plan for Mr. Lauer, whose future on "Today" has been the source of widespread speculation in recent months. Mr. Lauer, a star of the "Today" show for the better part of two decades, signed a contract last year — believed to pay him $25 million a year — that keeps him at the network at least through the end of 2014.

But the recent outreach to Mr. Cooper, described by people on condition of anonymity, suggests that NBC might remove Mr. Lauer from his co-host chair before then, or that Mr. Lauer might ask to be replaced.
(h/t Deadline)
Have a tip we should know? tips@mediaite.com