NBC Reporter: Evidence 'Does Not Corroborate' Claim Gray Tried to Injure Himself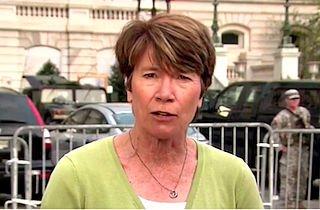 According to a document obtained by the Washington Post, a prisoner in the van with Freddie Gray reported to a police officer that Gray had intentionally tried to injure himself during the ride that somehow resulted in Gray's severed spine. The Post added that the prisoner would have been behind a partition and unable to see Gray.
But Jayne Miller, investigative reporter for NBC's Baltimore affiliate WBAL, told Morning Joe that none of the evidence presented thus far corroborates such a theory of events.
"The medical evidence does not suggest at all that he was able to injure himself," Miller said. "The force of this injury, akin to have the force involved in a car accident with all that momentum going, that is much more force than you would get trying to bang your head against the wall of the van."
"You have to have other injuries," she continued. "You can't bang your head against the van, to injure yourself in a fatal way, without having a bloodier head. There is just no information that would corroborate that."
Miller added that the station's own reporting found that Gray had been unresponsive when the second prisoner was loaded into the van, and that video footage of the police opening the doors suggest Gray wasn't in a frenzy.
"You see several police officers opening the back door of the van and peering in," Miller said. "Now, if you have a prisoner in there that is so irate that he's banging his head against the wall, I don't think that's the kind of thing you do, to open the door and give him the chance to escape."
Watch below, via MSNBC:
[Image via screengrab]
——
>> Follow Evan McMurry (@evanmcmurry) on Twitter
Have a tip we should know? tips@mediaite.com