NBC Shuffles Prime Time Lineups; Community Takes A Break, Rock Center Moves To Wednesdays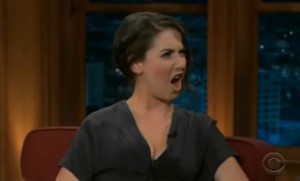 If you've read Mediaite the past few days, you might have noticed a large ad for Rock Center With Brian Williams briefly darkening and then taking over your computer screen. Well, if the time and date of its airing somehow planted itself into your subconscious, it's time to shake it out. NBC announced today that, starting in February, Rock Center will be moving to 9 p.m. on Wednesdays, and will follow Whitney (which now airs on Thursdays) and mid-season replacement Are You There, Chelsea?.
Williams' news and pop culture vehicle shouldn't be confused with Tina Fey's 30 Rock, which will be returning to Thursday nights beginning in January. Part of the collateral damage of 30 Rock's return? Community, which has built up a loyal, but relatively small, fan base, and Prime Suspect, starring Maria Bello, are off the schedule. According to sources contacted by The Hollywood Reporter, Community will return. At some point (More solid Community news: Kris Kristofferson has the show's back). There was no word on Bello's show, outside of assurances that it was not canceled. And while the Prime Suspect news is sure to be a downer for its fans, the Community news is turning up movements not seen since the days of Arrested Development's cancellation.
Twitter, naturally, lamented the Community move, but the outpouring of support overshadowed the more interesting storyline here: Rock Center's lead-ins are going to be two freshman shows by two female comedians. Whitney has already taken its lumps from critics and in the ratings, and Chelsea Handler's humor doesn't seem like it'll go over well at on prime time TV at 8:30, especially on a network that soured quickly on the stylings of Conan O'Brien. Still, it might be a quirky enough combination to work (going from two comedies to a news show to…Law & Order: SVU — something for everyone!).
There is some silver lining for Community fans, although it's incredibly abstract; but in a fittingly ironic twist, no television character could appreciate the fun little mess that mixing up three totally different genres on Wednesday nights could cause, more than Community's Abed.
(Image courtesy: The Late Late Show With Craig Ferguson)
Have a tip we should know? [email protected]