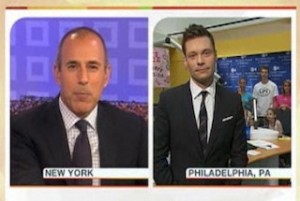 Just a few months ago, reports surfaced that Today Show host Matt Lauer had had enough early morning TV work, and would be departing the show when his current contract came to an end. While NBC denied the report, rumors have persisted that not only is Lauer serious about leaving, but that NBC executives are reasonably (and quite seriously) considering possible replacements. Mediaite has learned that the top choice of certain key Comcast and NBC execs is American Idol host Ryan Seacrest.
Along with the doldrums of summer come the fill-in hosts, for cable and network shows alike. Who fills those chairs when the lead anchors take vacation is probably more significant, and well thought-out, at the morning shows than any other programs on television. Over at ABC, up-and-coming star Josh Elliott filled in hosting GMA this weekend (as he had during the week before), while Elizabeth Vargas substituted for Robin Roberts last week. But with rumors that Matt Lauer could leave The Today Show in the near future, the real action is over at NBC, where Meet The Press host David Gregory and new NBC darling Savannah Guthrie are co-hosting today, and where Morning Joe's Willie Geist has seen significant time in the "male" chair.
Ryan Seacrest has become a household name hosting American Idol, his radio show and co-hosting E! News on the E! network, which is owned by Comcast. With GMA shrinking The Today Show's lead in the past few months, the internal discussions have been intensifying, Mediaite has learned. Key NBC insiders now believe that only someone with Seacrest's name recognition and appeal to women could allow for a smooth transition, and ensure that the incredibly profitable Today Show remains on top in the morning.
When reached, an NBC spokesperson had no comment.
The issue with Seacrest, according to insiders, is not whether he could get the gig, but whether he would take it. The full time hosting job would mean that Seacrest would have to leave his beloved Los Angeles and move to New York, which he is apparently loathe to do. Furthermore, hosting a morning show is a grueling job, and with his production company and various hosting jobs, something would have to give. If Seacrest were to take the job, there would also likely be internal dissension amongst the NBC News folks, for picking someone with no news experience. But these days, one has to imagine that simply wouldn't matter much to a company seeking to protect one of its most important and profitable brands.
The way to avoid all of that, of course, would be to figure out how to keep Lauer.
Have a tip we should know? tips@mediaite.com