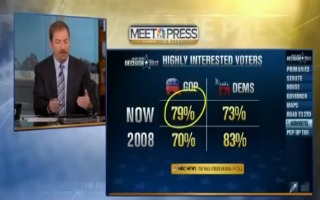 Even before opinion pollsters have surveyed the electorate following Mitt Romney's strong debate performance against President Barack Obama on Wednesday, voters who support Republicans are showing more enthusiasm than voters who back Democrats. NBC Senior White House Correspondent Chuck Todd told Meet the Press on Sunday that this condition constitutes a "huge problem" for Democrats.

Todd told the Meet the Press panel that an NBC News/Wall Street Journal poll of registered voters showed that 79 percent of Republicans are "highly interested" in voting on November 6, compared with 73 percent of Democrats who are also "highly interested" in voting. In 2008, Democrats had the advantage in enthusiasm, with 83 percent saying they were excited to vote compared with just 70 percent of Republicans.
Furthermore, among voters aged 65 and up, 87 percent are eager to vote compared with 81 percent in 2008. Seniors is often the only age demographic in which Romney enjoys a comfortable lead over the president in opinion polls.
Among young voters aged 18 – 34, only 52 percent describe themselves as enthusiastic to head to the polls. In 2008, 72 percent of this demographic said the same. President Obama won nearly two thirds of young voters four years ago.
Finally, just 59 percent of Latino voters describe themselves as enthusiastic compared with 77 percent in 2008. "The president is winning Hispanics by 50 points," said Todd. This group's lack of enthusiasm could spell problems for Obama if he wins this group by 2008-level margins but they represent a far smaller portion of the electorate.
"It's a huge problem," Todd said. "And by the way, all of this, pre-debate."
Watch the clip below via NBC:
h/t Huffington Post
> >Follow Noah Rothman (@Noah_C_Rothman) on Twitter
Have a tip we should know? tips@mediaite.com