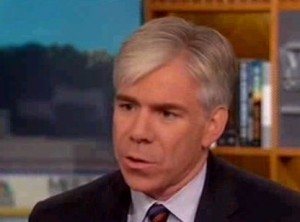 Jon Huntsman has been on a quest to reach out to Republican voters who would prefer to see a moderate candidate run against President Obama as opposed to an ideologically pure one with little chance of winning a general election, but he was put on the hot seat about this very issue on Meet the Press today, when David Gregory brought up Huntsman's glowing speech about 2008 vice presidential candidate Sarah Palin at the Republican National Convention three years ago.
In the speech, Huntsman declared to the audience, "We are looking for Sarah!" and praised her for having an "independent spirit." Gregory took the opportunity to ask Huntsman if he was a "Sarah Palin Republican." Huntsman then began a series of careful explanations as to why he gave such words of praise to a candidate who many would consider part of the Republican extreme Huntsman is now so viciously decrying.
"I was asked to introduce her and nominate her because I think I was about the only person who actually knew her after John McCain had picked her as a running mate. I was chair of the Western Governor's Association, I'd worked to a limited extent with Sarah Palin, so when you're looking for somebody who can actually go up and nominate her, I was asked to do it and I did as told."
Gregory asked if this meant Huntsman didn't actually believe the United States was ready for Palin at the time, and Huntsman further explained that he felt indebted to McCain, a "good friend," and did in fact believe Palin could have made a suitable vice president. Gregory pressed further, asking if Huntsman shared some of her views, and Huntsman admitted he's not quite sure how much he has in common politically with Palin, but said he would assume they were in line with "principles of conservative governance."
RELATED: Jon Huntsman Hits Sarah Palin For Stringing People Along: 'Too Much Drama'
Gregory took one brief moment to show Huntsman a recent article from The Onion claiming that Huntsman is "quietly relieved" to be polling poorly among GOP voters. The satirical publication "quotes" Huntsman as saying, "These people scare the bejeezus out of me." Gregory asked Huntsman if there was any truth to the Onion's satirical tone. Huntsman explained that just because he sounds like a moderate, having a moderate tone does not necessarily beget a moderate record.
Watch the video below, courtesy of NBC:
Have a tip we should know? tips@mediaite.com
Josh Feldman - Senior Editor